Customer Feedback
We have received so much lovely feedback from our Customers along with their photos, that we have decided to add these comments to our website. If you would like to have your comments & photos featured on these pages, please tag or DM us (Facebook or Instagram @ Beaver Bushcraft) or email us at [email protected]
Hand Crafted Bespoke Leather Belt
Hi just to say I got the belt and axe protector yesterday and am very pleased with both thanks. And thanks for the extra D ring, much appreciated. Gavin. Scott 16/01/2022
---
Bespoke Hand Crafted Leather Belt #801
Dear Mark , I had to write and say how much my husband loved his belt that you made for him. It made his Christmas. He had, had a belt of your's for over 5 year and it needed replacing having been worn nearly every day. He was not disappointed. Excellent quality. From a very happy customer. Kathy Dooley 03/01/22
---
We don't always get it right, but when we do, its so nice to hear back from our customers!
"Brilliant service, great product and many thanks for the amadou sample, really appreciated!"

Regards Martin B

eagley

08/01/2022

Hi Mark "Thanks for your response, my delivery has arrived, thanks for your great customer service". Kind regards Duncan Baines 07/01/22.
---
Traditional Curly Viking Flint & Steel Striker
"Happy New Year BB. Excellent striker, really appreciate the additional flint and tinder" Turby Widget 03/01/22
---
Dragon's Head Flint & Steel Striker
"Absolutely brilliant and thank you for the flint and tinder". Charlie 02/01/2022
---
Hi Beaver Bushcraft, Got my order, that was fast! Thank you for the nice piece of English flint, pleased with everything I ordered.
Thanks again and hope you all have a Happy and prosperous New Year! Bob Estep 28/12/2021
---
Some More December Feedback 2021:
"Always quality kit from Beaver Bushcraft, many thanks. have a fantastic new year."

Phil R

"Excellent seller AAA+++ fast postage excellent condition item and even included a free sample of similar product to try will definitely use this seller again" Rangers1960.
"Very good and excellent service". Regards David
"Nice striker, lots of sparks. They also threw in some free flint and amadou". Gaxy
---
Bespoke Leather Case & Fire Strom
Thank you so much for my delivery of beautiful hand crafted fire storm. The boy is going to love it!!!
Many thanks. Victoria Hughes 21/12/2021
---
Traditional Viking Dragon Ship Flint & Steel Fire Striker
"Fast to arrive and excellent quality. Very happy with this. The attention to detail on the striker is amazing". Mathew Sumner 18/10/2021
---
'15th c.' Shaped Flint & Steel Fire Striker
"Fantastic quality (and works a treat) - very highly recommended - will be back " ! Cgct22 18/10/2021
---
Hi Guys, I've recently realised that I've quite a collection of items from your catalogue – several of them limited edition pieces. I always appreciate the attention to detail and workmanship that goes into them (and the little extras that you put in makes me smile).
I received the Mini Round Tinderbox with hand crafted leather case a couple of days ago and thought I'd let you know that I think it's simply delightful; well made, of course, and absolutely tiny yet perfectly usable. You seem to continuously improve your standard, well done! How you can make these items for the price bewilders me.
Kind regards, Phil Simmons 15/10/2021
---
Bespoke Hand Stitched Leather Belt
Hey guys. Just wanted to thank you for my lovely 911 belt and the extra matching items you sent me, I received it 15 minutes ago. Awesome quality and definitely the best quality
belt I've ever owned....and from a neighbour in Kent....NOT the USA as usual! Definitely a superior product and opening the box, the house now smells like a tack shop....that lovely
strong smell of leather. Thank you again. . Much love to you both! Steve Taylor 01/09/2021
---
Hi Mark, Just wanted to say a big thank you to you and the team. I received my order yesterday and am delighted with it. I am particularly pleased with the extra free samples of tinder and a good piece of flint! Where can I best post up some positive feedback? Many thanks again. Alan 16/09/2021
---
Message: I just wanted to say thank you for the glorious mini-snuff tin tinderbox, delivered today. Also, many thanks for the little extras. I make no apology for the glee with which I opened up the box. It's odd, but I was drawn to your post code. I know - weird: however, not so because I used to call Snodland home. It really can be a small World! I look forward to keeping up with your business and, I suspect, making the odd purchase or three. Keep well and every good wish for the future. Kind regards, Steve Harding 16/09/2021
---
2 days from order to receiving. Surprised to find a shard of lovely black flint and some brown fluffy stuff called amadou.A few strikes between flint and steel produced quite a lot of sparks. So I went outdoors and tried with amadou, got an ember within a minute or so. Beginners luck? Tried again later, it took about 10 seconds. I am a total beginner. Not tried producing fire yet. If you can't get this to work buy yourself a box of matches. Joe Trader 15/09/2021
---
Traditional Viking Horse Flint & Steel Striker "Absolutely amazing service! Absolutely perfect product and packaging!" Jane Edwards 06/09/2021
Natural Amadou Tinder for Fire Lighting Premium Quality "Excellent Amadou, the best quality available. Highly recommended seller." Turby Widget 06/09/2021
Natural Amadou Tinder DOWN 10g Bag Fire Lighting Bushcraft "Excellent customer service, fast shipping and as described. 5*" Daisynotail 05/09/2021
---
Hey Mark, your parcel has just reached me. The Pouch and other things are so beautiful. I'm very happy. Also have thanks for your little present.
Would definitely not be my last order at you. I Plan to build a classic bushcraft belt. Most parts on there will be by beaver bushcraft. Good to know " beaver bushcraft " exist.
Best regard and thanks...Manuel Rocker 02/09/2021
---
Received my order yesterday and my steel is everything I expected. The flint is even better than my 1st order. Thanks. Moses. 29/08/2021
---
Bespoke Handcrafted Leather Belt Pouch
Hello Mark and Beaverbushcraft, I just want to say thank you for the superb pouch and the generous free gifts enclosed with my order. I am very pleased with the pouch and I am sure it will prove as useful and as durable as previous pouches you have made for me. With best wishes, Robert Brookes, 12/07/2021
---
Good afternoon, last week I ordered a 3-in-1 Fire Dog, through eBay I believe. You couldn't have known that it was for my sons birthday but he was absolutely delighted to open it and discover that you had added some amadou and flint too. He is building a 'survival kit' as part of a Scouting task. I just wanted to say thank you, so much, for such thoughtfulness and generosity. Thank you. Tim 20 Jun 2021
---
365survival : "Love you guys"
Wood N' Notts : " I'm ready with all my Beaverbushcraft gear for tomorrow bright and early. Love your gear, its pure craftmanship."
basurvival1 : "I got it from beaverbushcraft, check out their website they have a range of different fire steels and other cool bushcraft stuff."
wildnwelloutdoors : "@buckeyegirlbushcraft thanks mate! The striker is from the excellent Beaverbushcraft."
---
Hudson Bay Tinder Box & Leather Pionnering Pouch
Hi all, All I can say is wow 🤩 first my belt and now this! I am so happy with the items you have so carefully created, you and your team are truly gifted. The extra pieces of individual various tinder is very much appreciated, thank you so much for your beautiful work, all worth every penny. I've liked your Instagram account and mentioned your work on my page also, I hope this helps a little. I keep looking at your website and thinking what can I order next? The wife will be asking questions very soon I'm sure. Once again thank you. Kindest Regards. Daryn Godfrey 27/05/2021 (wood_n_notts on Instagram)
---
Traditional Flint & Steel Strikers & Tinder
Hello Helen & Mark, My wife and I recently received our order for some flints and fire steels from your website. In the order, you gave us a free flint along with a free bag of amadou tinder. I wanted to say thank you for your kindness and generosity. God willing, may our family have fire for a lifetime. And may God reward you for your kindness. God bless,
Connor & Sahdia 24/05/2021
---
Hi, It arrived today and I have to say I love it all! I currently have a "C" shaped striker and it is so hard to hold. I have searched for a long time until I came across your website. The dragon striker is tiny but so easy to hold and use. There is enough surface for my fingers without whacking my knuckles on the flint. I really like the leather covered striker too. It is such an innovative idea and works really well. The chaga is cool! I never thought it would smell like leather. LOL Thank you for such nice products. I will be sure to spread the word around over here in the states for you. Sincerely, Linda Gehrke 10/05/2021
---
Hi, Just wanted to thank you for my awesome belt which arrived carefully and wonderfully packed. Lovely belt, very pleased and haven't stopped wearing it since the day it arrived 👍🏻😊Just thought you would appreciate me letting you know. Thanks again. Kind Regards. Daryn Godfrey 10/05/2021
---
Traditional Flint & Steel Strikers
Dear Beaver Bushcraft team, I have been ordering with you for a couple of months now and I am very pleased with the products and the processing of the orders. It is great fun to play with your products and to teach others how to use them; I have been able to get my 6 year old daughter to start a fire with one of your kits. ;-) I wondered whether I could leave a positive review somewhere. Thank you very much for your great service. I am looking forward to doing business with you soon. Best wishes, Marco 06/05/2021
---
Received with thanks fantastic all round experience great products , above expectations 😃🇬🇧 Gary Davies 05/05/21
---
Hello Mark, Thank you so much for the very quick delivery of my Mini 'Flint and Steel' Tinder Box set with extra flints and tinder. You were recommended by Robin Sheenan of eQeOutdoors on my first week of Wilderness Therapy training with him and Bridget last week.
With Beltane falling this weekend it will be the perfect timing to get practising with my traditional fire lighting skills. Thanks again and I will definitely recommend your beautiful products to others and no doubt will be treating myself to some more of your treasures in the future. Best Wishes, Ruth Dixon, Forest School Practitioner🍃
---
Hello good people at Beaver Bushcraft. I received my order this afternoon Mugwort & Amadou & noted the "wee bit extra" in each bag. "Thank You" so kindly as always. I'm speechless & a service second to none. Stay safe & germfree. Kind Regards, David, 27/04/2021
---
Thank you very much for a correct and timely order. I am extremely happy with your products. Steel is beautiful and really sparks. The flint is better than I thought it would be…the quality and sizing of the rocks is really nice. Thank You, Moses. 19 /04/21
---
Some Feedback from April 2021
---
Hi, I received the package the other day, just wanted to say thanks. Half a dozen strikes on the steel and I had an ember, fantastic! Just shows you when you have the right tools, what can be a struggle becomes effortless. Many thanks, Damian 15/03/21
---
Mini Pocket Sized inderbox with Mini Flint & Steel Striker.
"More goodies arrived from the wonderfully talented folk at @beaverbushcraft today. Mini snuff tin with a ridiculously beautiful mini dragon flint and steel striker !! Added to the jute and amadou tinder, sulphur spills and wax candle you have hours of fire lighting heaven right there! Thanks again Mark and Helen for your fantastic products!" Crosby_Darren on Instgram March 2021
---
Brilliant delivery from @beaverbushcraft today with some proper flint and brilliant steels. My absolute favourite has to be the blowpipe though and even though today's fire didn't need it - you can see the effect and the temperature it got to. ( I used it during the lighting process as well but forgot to video it ). Super happy and thank you for the note inside as well excellent service and great kit. Carl.Tinkler on Instagram. March 2021
---
Dragon Traditional Flint & Steel Striker
Hi Mark and Helen, thank you so much for my delivery. I have to say the pics of the Shongdong steel does not do it justice. Its amazing and fits perfect in my hand for striking, it looking great too. thank you as always for your amazing service. I hope you are both well and keeping safe. take care, Steve B, Edinburgh, Scotland, p.s. Happy Easter to you both. 02/03/2021
---
Tinder Box Starter Kit for Flint & Steel
Good afternoon, Parcel arrived safely this morning . Thank you very much for all your help regarding this order and your thoughtfulness in " doctoring " the contents of the starter kit to make it suitable for the age of my grandson. Can't wait to see his face when he opens this particular gift. I really do appreciate all your help - thank you again. Kate 29/03/2021
---
Hi, I received my order a couple of weeks ago and just wanted to say I'm really happy with it and I really appreciate the extra items you threw in! I'll certainly be ordering from you again in the future and will make sure to recommend you. Kind regards, Sean Curran 29/03/2021
---
Some Feedback from March 2021
"Love the steel striker and thanks for the extras brilliant service". Traditional Viking Horse Flint & Steel Striker. Carla Johnson
"love it. thanx". Traditional Viking Dragon Ship Flint & Steel Striker. Libby Skye
"A Great Item. Very Pleased. Thank You". Traditional Simple 'Viking' Style Flint & Steel Striker. Elhamite
"Quality product - included a sample of amadou down to try - thanks 😊" Natural Amadou Tinder for Fire Lighting Premium Quality. Romcmichae
---
Bespoke Hand Crafted Belt Loop
Hi, Just wanted to let you know the package arrived safe and sound this morning. I am very impressed with the quality of work and needless to say, extremely happy with my purchase. Many thanks and kind regards, David, 06/02/2021
---
Bespoke Hand Crafted Peather Pouch
Hi Mark, Many thanks for the delivery! It's a lovely pouch, and the amadou is top quality (i can never get the knack of processing it!) Hope you are keeping well and safe :)
Kind regards, Alex, 0/02/2021
---
Bespoke Hand Stitched Leather Belt
Hi Mark, I just wanted to say that I was thrilled with my bushcraft belt and possibles pouch. Exceptional quality naturally made and looks great. The fire steel was also a pleasant surprise; much lighter and compact than other I have and so much easier to carry around. You have a first rate business - well done! I liked what I ordered so much I've just ordered another. All the best and kind regards, Pete Kelly 05/02/2021
---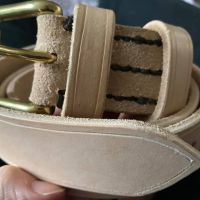 Its so nice to get this sort of feedback from our customers, especially at the moment as we are so exceptionally busy…..
"Oh guys there really was no need for a gift I was just wondering. But as always thank you for your amazing personal service you guys are great. I'm really please you guys are doing well with all these awkward times. Im a teacher/Forest school practitioner and have never been so busy in my career. Teaching online lessons, maintaining a YouTube channel to help kids keep contacted and teaching face to face lessons for key workers. It's been great to have a new craft to enjoy so again thank you for helping me stay sane! 😀 Ian Sippitt 30/01/20. (On the left is the photo Ian tagged us in of the Belt he made from one of our Kits. Awesome!)
---
Good afternoon, I've just got in from work and found the parcel from yourselves. What can I say? The belt is exactly what I hoped it would be and more than well worth the wait. I'll be ordering another one in the next couple of months. A big thank you to Satan's little elves, you have done really well. Regards,
Sean Porter. 30/12/2020
---
Traditional Fire Steel Striker
Another fantastic steel, my second from you now. That Amadou fluff is some good stuff. Wishing you all a Merry Christmas and I look forward to getting a few more of your amazing steels in the new year. Gaz. 21/12/20
---
Fire Steel & Tinder Starter Kit
Hi, My Irish R fire steel and kit arrived today. It's fantastic, I can't wait to out and give a run. I just gave the fire steel a strike...it works a real treat. Have a good break. Take care. Stewart Holmes. 19/12/20
---
Order arrived today, very happy with it, thanks for the Amadeu. Seasonal greetings to you all. Tony. 18/12/20
---
Hi Guys, Received my pouch today, thank you it is beautiful, the workmanship is brilliant the quality of the materials is fantastic. I also love the belt loop and lanyard thank you. Once again you have proven that when it comes to quality you don't comprise. Ted Edgar. 18/12/20
---
Bespoke Gransfors Bruks Axe Head Sheath
Dear Helen and Mark, I wanted to close the loop on my order and let you know that, despite shipping delays, the axe sheath and overstrike protector for my Gransfors Bruks Small Forest Axe arrived safely this past weekend. I cannot thank you enough for your assistance throughout the transaction. Your customer support was superb. As to the sheath itself, words honestly fail me. I was stunned at the quality of material and craftsmanship that went into this product. Thank you simply does not cover my appreciation. I mentioned in one of my first letters that someday I hope to pass my axe down to my grandson as a legacy gift. Your leather sheath has made this a gift for the ages. I wrote a review on the axe when I purchased it on Amazon. I plan to edit the review to reflect my recommendation that others look to Beaver Bushcraft and Leather for sheath upgrades. Best wishes for the year ahead! Sincerely, John Dominoski, USA. 15/12/20
---
Hi, Thanks for your products, they are amazing. Look forward to buying more stuff in the New Year. Keep well and keep safe. Calum Lapping. 12/12/20
---
My order has arrived safely, I would like to thank you for my purchase and say we are more than pleased with the quality, and speedy arrival in time for Christmas. Kind regards, Jacqui Sanigar. 03/12/20
---
Some lovely December feedback about our Amadou:
Excellent Seller. Many Thanks. Kevin
All superb as ever - thank you. Dax
Very happy, thank you. Dave
Nice item, good seller, buy with confidence. A+. ChockHead
Excellent item service and price A+++++ Munty Kev
---
Thank you. Thank you very much it is fantastic, beautiful, and thanks for the extra bit of amadoe sheet. Wish you all a safe and happy Christmas. Iain Mitchell 23/11/20
---
Traditional Flint & Steel Striker
After playing with the flint and steel I got the other day I just ordered 4 more and some flint . Your product is top notch .You should be very proud of your team.
Ron Trojanek. 20/11/2020
---
Traditional Flint & Steel Striker
Dear Beaverbushcraft, I received the package with the firesteel today and was also glady surprised to get a piece of amadou with it. This goes well into my brass flint and steel box or 'tondeldoos' as we call it here in the Netherlands. It looks like I finally obtainded a proper fire steel, as one ordered from the UK some years ago hardly gives a spark. The Nordic or Celtisch design (?) is really added value. Looking forward to making a flint and steel fire soon in the sequence of primitive or traditional fire making I am practicing currently; including successful bow fire making. It's great fun and a good set of skills to have.
Anyway, thank you for the great service and attention. Looking forward to purchase from you again in the future. Perhaps a Hudson bay tinder box, which looks great. Cheers, Erwin van Maanen, EcoNatura – Onderzoek voor Natuur, Landschap & Duurzaamheid, Science for Nature & People l Thinking ecosystems.15/10/20
---
Some October Feedback:
---
Good afternoon Helen & Mark My delivery arrived about an hour ago. Very pleased with all the merchandise, very good quality, and well worth the wait. Also, thank you for the extras you very kindly put in, much appreciated. Best wishes, good luck and stay safe. Best regards, Julien, 02/10/2020
---
And another lovely email from Gareth ......
Hi, I received my pioneers pouch order today and just wanted to thank you. They are amazing!! I'm over the moon!! Your workmanship is outstanding, you have been blessed with an amazing talent! Thank you so much for the belt loop and tinder. You are very kind. As soon as my wallet allows I will be placing my next order. Again thank you so much. Take care. Gareth Hartly, 29/09/2020
---
Hi, My Hudson Bay tinder box and the possibles pouch from my previous order are amazing. The extra items were very much appreciated.
I love what you are doing, the personal nature of your products and business are a rarity these days so it is a pleasure to spend time on your website and order your amazing products. Every item you sell has been thoroughly thought out and the work and care put into them is evident in the craftmanship.
Every aspect of my experience with you from the first phonecall right down to the packaging has been first class and a real pleasure. I hope you have many more happy, busy years of business!! I will certainly be ordering from you again. Keep it up and thank you! Take care, Mr Gareth Hartley, 25/09/2020
---
Hello. I just wanted to tell you how much I like my thor's hammer striker. It's the perfect size for striking. The only thing I'd modify is making the hole be 8mm to accept 550 paracord. I also really like the amadou it takes a spark amazingly. I had only used charcloth, poplar inner bark and hemlock twigs for the most part because it's plentiful. Flint is handy as well as it does spark better than local quartz. First purchase. You are on my radar now. Sender: Brother Paul Brenton Benard 26/09/20
---
Hi, I just wanted to say thank you so much for my mini triskele steel, it's really beautiful, and thank you for the complimentary flint and amadou, that's very much appreciated, thank you. Do let me know if I can leave a review for you anywhere at all. Many thanks. Ruth. 10/09/2020
---
---
We have recieved some lovely emails this month about our products & service at Beaver Bushcraft :
Hello, I am very happy with my amadou! Whoever packaged it was kind enough to add a little extra for no extra cost, so I would like to extend my thanks to Beaver Bushcraft for your generosity! I have tried extracting and processing tinder fungus myself in the past, but the results weren't like this at all, your product is beautifully smooth and spongy and takes a spark very easily! Kind regards, Andy Higgs, 31/08/2020
Hi Mark & team. I would like to say thank you so much. I admire your skill, I am also envious as I can't make anything as good as what you do although I am practical. Stay safe. Kind regards, Mike Freeman. 26/08/2020: Bespoke Leather Work
Hi Mark, Thanks for your nice words in your answer on my mail. I also thank you for the way of solving the problem concerning the missing item, well done. I wish you all the best and it was a pleasure for me to have contact with you. Kind greetings, Tonny, 25/08/2020. (When things go missing in the post we still do our best to resolve a situation and this was the lovely customer response to our quick action).
Hi Helen and Mark, Just a little thank you for upgrading my order from 10g to 20g you guys are the best. Take care and be safe. Steve B, Edinburgh, 25/08/2020
Hi Dispatch Elves, I received my orders today and love them, Thanks and all the best, Andy Wood, On Friday, 21 August 2020.
Dear madam, sir. I am very happy with my purchase. My customers love the style you make the flint steel and i give them as a present to my dearest customers. Keep up the good work and stay healthy and safe. Best regards. Edwin de kovel. Knifemaker and leather worker, 10/08/2020: Traditional Flint & Steel Strikers
Hello. I have always been very satisfied with the very good quality articles I received from Beaver Bushcraft. Your work is great, all my compliments. Best regards. Delta Gabier, France, 05/08/2020.
---
Saw this awesome conversation on the Bushcraft Trading Post Facebook group page what some people had to say about our Traditional Fire Steel Stikers. How lovely!
Some feed back from our July Customers:
Hi Mark and Hels, Picked up my order tonight and I have to say this has made my day! The 911 belt is flawless and made to perfection. For me it has a practical use for carrying my keys, lighter pouch and multitool. Also, in my line of work, as a commercial heating engineer, we sometimes have to lift and move hugely heavy components into place. Therefore the belt acts also as a back brace support. This is just what I need, you have my deepest gratitude, this will really make a difference in my work. Now for the second part. The Fire Starter kit, iron and nut meg pouch was for my granddaughter. You should have seen the look on her face when she was given it, and the exhilaration on it when she made her own fire using the "old ways"!. Cheers my friends. Probably your mast impressed and satisfied customer. Darren Snow (UK) 29/07/20
Just wanted to let you know that I received my tinder bag and Sea horse striker. Very pleased. And the tinder and flint was a welcome surprise that makes me want to tell others about your site and products. Job well done! I'll be back. Mike Mullins Moon Walker Outdoors 27/07/20
Received and very pleased with it all. Martin Burdon 21/07/20
Hi Mark, I got my order today, Everything thing looks great! My husband is wicked excited to try out his new fire lighting kit! Thank you, ~ Rachel 01/07/20
Good item and as described. Scottyhoundogd5
Really pleased, appreciated the cord and bit of fire starter thank you jadedmisscaine
Fantastic, A One. Paul Marto
Great product, quick delivery. Xander Green
All as described, speedy too, cracking altogether! Strop_21
---
Some feed back from our June customers:
Traditional 9th C Viking Style Flint & Steel Striker "Fantastic steel lightest of strokes gives decent sparks thanks". uk_whimp
Traditional 'Triskele' Design Flint & Steel Striker "Excellent item total quality and can't wait to use it in the field", Ben Selby
Traditional 'Triskele' Design Flint & Steel Striker "Just as described. Great bit of kit. Many thanks". Bushcraft Basics
Traditional 'Fort Dodge' C Shaped Flint & Steel Striker. "Just the job! A1+++ trader!!!! " Big Nige
"GOOD SELLER, BRILLIANT BUSHCRAFT GEAR, TOP SELLER, SPEEDY POSTAGE". Celtic Snow Moon
"Very happy thank you. Excellent wish I could produce the same quality". Dave
"Thank you very much. Wonderful👍👍👍👍" Phil Hock
"Very good quality item and as described" . Scottyhounddog
"Fantastic, A One!. Paul Marto
"Great " Stoneeyegaz
"Great product", Munchh
---
Hand Stitched Zippo Leather Case
Mark,Thank you for my leather Zippo lighter pouch-it is marvellous, functional, looks great and I love it. Best wishes, Dave Cox, (UK) 18/06/2020
---
Handmade Viking Style Leather Cuff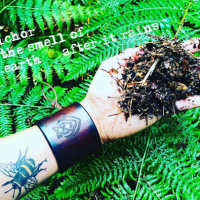 Hi Mark, Just to say the leather cuff I ordered arrived in time for the photo shoot (I think it's tomorrow). I appreciate you getting the order out so quickly.
On the upside: I'm going to order the mahogany red heart cuff so there is some choice as to props/what to wear (I would have ordered them both at the same time had I saw them, but I think these only just went up), and because my friend loves your work. Very best to you and the small team around you. I am thrilled people have been especially enjoying what you create and sell over lockdown. Best, Gerard. (UK) 17/06/2020
---
Mark, Thanks for all the updates on shipping, the package arrived today. Everything looks awesome and thanks for the extras you added in! Looking forward to learning how to make fire all the different ways available from the tinder boxes! Best, Thomas Posey, (USA) 17/06/2020
---
Received my order, I am delighted. THANK YOU! Hope you and your family are well, and continue to stay safe. Donna Keen, (USA) 16/6/2020
---
We came across this conversation about us on Instagram the other day. Thank you so much fro the great commnets guys from EQU Outdoors, The Bushcraft Group & Woodland Dave.
---
Guys, Panic over lol it arrived today! I have to say a massive thank you! Your customer service has been excellent in what is an extremely strange time! The extra tinder is extremely appreciated an I can't wait to get out and try the new kit! Thank you once again and I look forward to the next time we do business!
Stay safe and hopefully we can all fully return to the outdoors soon! James Devlin, (UK) 13/06/2020
afternoon Mark, thank you, received tinder box and thank you for the extras, my husband is well happy. regards. J Conly , (UK) 12/06/2020
---
Hand Stitched Zippo Leather Case
Hi Mark,
Picked up my Zippo case today and I have to say very impressed with it. The quality and attention to detail is outstanding. I will definitely be a regular customer to you and give others the nod as to where to get some of the most exquisite hand made bush craft items. Once again thanks. Kind Regards, Darren Snow, (UK) 13/06/2020
---
Thanks guys so much for the hand pad ! It's little things in life that make it all worth while! Love the products! Just what I was hoping for , thanks again, speak soon! Cheers, Chris, (UK) 07/06/2020
---
Parcel arrived on Friday and the pouch has been on my belt ever since. Many thanks for the extras - a bonus which was not required but again appreciated.
Regards, Rob. 02/06/2020
---
Sometimes things can do awry; we always try our best to chase up with the Royal Mail so it's really nice when we still receive lovely feedback like in the case of this customer ….
"Hello. All is well and everything is awesome in the kit by the way. Thanks so much for following up with them, and I look forward to getting more awesome kit from you in the future. Thanks again!" --Tom B On Fri, May 22,
---
Hey, I would to say thank you for a great service and the extra tinder supplied, everything arrived well packaged and the leather pouch put a big smile on my face as well as the other bits, but it was all the little details that really made the whole order great, a lot of care and attention. Many Thanks. Chris Haywood. 21/05/2020
---
Hudson Bay Tinderbox & Leather Pouch
Heya Hels, Thank you for my order. I love the tinder box, the steel and the pouch. All are top dollar! and the all extras.. amazing! I'm totally made up! 😊 Pouch is on my belt as I speak and feeling like the Mountain Man I always wanted to be when a kid.Lots of practice to now follow. I know it will take time to develop this new skill but I seem to have a lot at the moment 😊 Well what more can I say, apart from again thank you sooo much. Keep up the good work.You are truly an amazing couple of crafts folks and lovely couple to know.I look forward to the day I can meet you both and shout you a beer or few 😉Take care my dear friends.Stay Safe 🙏❤️With best wishes and to a better future. Kind regards, Rob Pickering. xxx. (UK) 20/05/2020
---
Fire Lighting with Flint & Steel
Hi Mark and Helen, I just heard a knock at my front door I have been waiting for. the Postman with my order. thank you so much for the extras, that was very kind of you both. You are now on my Christmas card list. I have tried out my striker already and got an ember on first strike! Very happy customer. take care, be safe of to practise.
Kind regards, Steve B, 09/05/20
---
Dear Helen & team,
Thank You as always for such a sterling club class service, my order was delivered today. Appreciated, please stay safe & germ free. Kind Regards, David, 07/05/20
---
Fire Lighting Kits for Teaching
We found this lovely review from The Copper Campsite (based in sunny Cornwall) on Instagram the other day, we just had to share it as we were feeling the love!
Beaver Bushcraft are a wonderful British Bushcraft and handmade leather goods company, I bought all of this fire starting kit from them last year because this year I was intending on showing guests, if they were interested, how to make a fire the ancient way. They are a fabulous family company, I told them what I wanted and they delivered admirably. Especially now, when people may be going a little stir crazy, if you are lucky enough to have a garden, an outdoor space or even a solid fuel fire...why not have a look on their website and put together a wee kit so you can learn, on your own or with your children, how to light a fire. It's a lovely thing to do...maybe start with a ferrocerium rod and then progress to a flint and steel as in the pics, or maybe just get a selection and work your way through. Have a look at their selection, the steels are great quality, many made by great British blacksmiths and the flint is all British sourced. I believe they ship worldwide and If you need help, message Helen and Mark, they will be glad to help you. A true gem of a British company who will gladly help you out. James @ The Copper Campsite.
---
Hi Team. Postie has just been. Yet again a collection of goodies to delight. This time its for friends as gifts.This is to say a BIG thank you. I or my daughter will be back shopping with you again soon.YOURS. John Ruston.Northern Ireland. 04/05/2020
---
Hi Mark. The belt arrived today. Lovely quality and thanks for the extra loop. All the best. Peter B. UK .06/05/2020
---
Hand Stitched Pioneering Pouch
Hi, Just a quick email to let you know that my pouch has arrived and I absolutely love it. Thank you very much for the key ring that you included as well, that really was kind. I look forward to placing my next order with you. Thank you once again. Stay safe and best wishes. Terry Ratcliffe, UK, 25/04/2020
---
Wow. I received the belt. What great craftsmanship. I want to place an order for same for my son. With a 34 inch waste. Again. Better than I could have hoped for. Be well. And cheers, Donald Oakes. USA 24/04/2020
---
Hello, and thank you! Today i received my package from you. I was making dinner when the package arrived in my post-box. Making dinner and slicing tomatoes, i tried to slice tomatoes with the flint and that did just fine. We don't have flint up here in the northern Sweden but we have a lot of chaga and other form of tinder.Thank you again for your nice homepage and i will hopefully be ordering from you soon again, hopefully before Great Britain leave EU.// Thanks!, Rainer, Sweden 24/04/2020
---
Hi guys I've just opened the stuff, mucho happy guys! Thanks for the little freebies, that's really kind, I'm really happy with all the stuff and will defo come back to you guys for my future needs , I like to stay loyal when I find good people! Let me know if there anywhere to leave a review about beaver bushcraft and I'll gladly sing your praises, lots of love, Chris Bates. UK. 17/04/2020
---
Hello, i just wanted to say that i recieved the kit today and thank you for it! It's a really cool little flint and steel kit and thank you for the extra amadue and flints that you sent. I was working on getting it to spark ( I'm new to the flint and steel ) My friend anxiously watched me to no avail and so she said let me see it, she wanted to see if she could get it to spark and she did! So im going to practice. I want to go back to your website and watch that video on it that shows you using it. The kit is really awesome and compact and can fit in a small pants or shirt pocket! I'm going to put the brimstone matches and small candles in a little bits and bobs necessities tin im making up! Thanks again! You guys are awesome and your site is full of cool bushcraft items. I'm going to recommend you to all the people who i know like camping and bushcraft. Thanks again for taking time to respond to me and the great customer service. I hope to order more in the future. Keep in touch. Angie Collins. USA 18/04/20
---
Hi, Just would like to say thank you for my recent order and the extra bits added. Hope you manage to keep going through this difficult time for small businesses. I will be back to order more supplies soon.All the best. Mark R 08/04/2020
---
Thanks Mark, I received my second order and I just want to thank you for everything,it's very generous. I will certainly pass on the great service and products to my friends. David Laue. USA. 07/04/2020
---
We recently did a little Give Away for some very special Key Workers and asked their friends to nominate them. Here is one message that we received back, made it all seem worthwhile. Since then we decided to make some more and this time put them on the website with the proceeds going to our lovely NHS workers.......
Heya Helen, just a quick note to say, a BIG thank you for the sanitiser holder you awarded and sent to my friend Deborah Coaten. I was made up, welled up and so chuffed. She had her birthday on the day you told her and that also made her very happy as none of us could be with her, so thank you again, R. Pickering.UK. 05/04/20
---
Hi Mark. Received the fire kit today and just wanted to say how pleased I am. It is fantastic and the leather pouch is top notch, really cool.I am definitely going to order a belt now, I just need to decide on the 801 or 901! Many thanks again. Regards Trevallyan 03/04/2020
---
Hi! All my new stuff has arrived safe and sound. I'm a wee bit emotional just now, but I'll message again at some point with a probably lengthy and wistful email! The belt fits perfectly and is simply gorgeous. I'm so pleased with it all. Postie virtually threw the parcel at me which was funny! And no signing required, which is something to bear in mind from a business point of view. Anyway, I'll be in touch again soon! Thank you so much! Alan B. UK. 24/03/2020
---
We spotted this little mention the other day (26/02/2020) on Instagram by Paul Smith of Primitive Bushcraft who was talking to another person about Beaver Bushcraft's Amadou….what a great accolade: " They have the best Amadou I've ever seen. I'd definitely recommend it."
---
Just wanted to thank you for the walnut leather overstrike protector which arrived today. Really excellent quality - very pleased with it. Best regards. Steve.16/02/2020
---
Another great fire steel delivered from your good selves today. Thank you as always and thanks you for the extra flint & bag of Amadou as well. Above and beyond as always. They will all be put to very good use. Brilliant products keep it up. Darren Crosby 13/02/2020
---
Thank you so much for the fast delivery of the item and the top quality of the service and quality of the item I will be recommending you my bushcraft friends.

From Peter Pool. 09/02/2020
---
"One substance in my tinder pouch that most probably don't have, is Kapok that I get from Beaver Bushcarft in England from the lovely Helen. It's a flash tinder like milkweed fluff or cattail. But its hollow fiber with more surface area. Amazing stuff". jw.apothecary on Instagram 04/0/2020
---
Thors Hammer Flint & Steel Striker
Got my awesome Thor's Hammer steel pendant & Flint strikers with a handy little pouch from #beaverbushcraft – A great UK-based Bushcraft supplies store I found online. Would highly recommend anyone wanting to get into Bushcraft to them out. 'ageminidragon' on Instagram 28/01/2020
---
Great item. Fast delivery. A great birthday present for friend. Thanks! mfagg 30/01/2020
---
Hey Helen & Mark. My friend Jonathan loves the belt. He opened it today as it's his birthday. Wishing both you and Mark a successful year and at some time l would love to order a belt for myself. Love Simon James. 23/01/2020
---
"Testing out some tinder from Beaver Bushcraft. Never tried chaga before with flint & steel before. Tried it and it works a treat, highly recommend their flint & steel sets and tinder". Prepper In The Woods, 21/01/2020 on Instagram
---
Lovely comment on Instagram about our Amadou on 19/01/2020 from 'Waitforwave' who says:
"I ordered some of your fantastic amadou a few months ago, it works better than anything I've ever done myself. How do you do that? Beautiful products by the way! 20/01/2020
Quality gear very fast postage. Many thanks. Howardds51, 20/01/2020
---
Hello, I received my order and the extra bits and bobs. Thank you very much, great service and products. Definitely be shopping with you guys again. Merry Xmas and a happy new year to you all. Thanks again. Keith 30/12/2019
---
Mark. Thank you very much the Hudson box arrived yesterday, together with your very generous extras, which was a very nice surprise. Happy Christmas, Graham 22/12/2019
Hi, Thanks. Received today. Love it. Merry Christmas. Ken Harris 20/12/2019
---
Perfect thank you very much I shall be buying more stuff from you. Leighton. 22/12/2019
---
Happy Christmas and happy new year. To you and family and all your staff. Keep the quality of stuff you provide coming in the new year. From a very happy customer. Peter Pool 24/12/2019
---
Hi. Bought some amadou from you before. It is excellent. Gave quite a bit to other people who were amazed at how good it was. Needed more so have ordered another load. Thank you for previous order. Look forward to receiving it. Federic 20/12/2019
---
Wow, it just arrived! That was fast! And it's beautiful! Thanks. Happy Christmas! Anne 20/12/2019
---
801 Hand Stitched Bespoke Belt
To everyone at beaver bushcraft,many thanks to you all and especially to your extremely busy elves.
Have just received my order that i placed at short notice, very pleased, it is a gift for my husband,he has always wanted one.many thanks.merry christmas. Della 20/12/2019
---
Natural Amadou Tinder for Fire Lighting Premium Quality
Faultless product and service. Recommended. Many thanks. (0: Kim Dec 2019
---
Thanks for your generosity, it's always a pleasure to shop with you guys and it's why I always come back. Thanks for your help and customer service. Darren 24/11/2019
---
Hello, Many thanks for the vintage snuff box tobacco tinderbox which safely arrived a couple of days ago. I'm delighted with this item, which is half the size of the previous flint and steel kit which I purchased from you.It is the perfect size for my every day carry, and thanks for the extra flint and tinder! Kind regards, Gordon 22/11/2019
---
Dear Mark, Just a quick note to let you know that all went well with the courier, and that I have the delivery. Very pleased with the order. Your are offering very good value for money and provide excellent service. Very well done! Kind regards, Paul Groves. 09/11/2019
---
801 Bespoke Hand Stitched Leather Belt
Dear Helen & Mark, I just wanted to thank you for the beautiful belt and belt loop you made for my husband's 50th Birthdays,. He was delighted with it. I cannot believe how well made it is, truly is well crafted. I think it may last him until his 60th birthday. Yours sincerely, Georgina Simmons 28/10/2019
---
Just a note to say thank you very much for your excellent service and top quality products you now have a customer for life. Kind Regards, Liam Hynes 08/10/2019
---
Good morning, Just thought I'd write to say how pleased I am with my order, I absolutely love them and they will get great use particularly on my forest planting trip to Scotland next month. Thank you so much and for the extra tinder, I will be sure to recommend you. Best regards, Harry, 22/09/2019
---
Copper Hudson Bay Tinderbox & Pioneering Pouch
Hello Helen and Mark, Just received my order all in tip top condition, WOW Awesome quality and as always top craftsmanship fantastic I am over the moon thank you so much, Kindest regards Geoff :) 18/09/ 2019
---
Hello. Package arrived today, everything perfectly. Thank you very much. (really like quality of amadou – excellent product). Regards, Alexander. 15/09/2019
---
Hi Mark and Helan, Just to let you know that I received my order on Saturday all in tip top condition, Fantastic 100% happy with them all as I always am when I order from you top quality, Thank you, Kindest regards Geoff :) 02/09/2019
---
Dear Mark and Helen, Yesterday I received my order in excellent condition. Thank you very much! Thank you for your great service! Yours sincerely, Paul The Netherlands 08/08/2019
---
Super fast delivery fantastic service buy with 100% confidence AAA++++++ redallien 20/07/2019
---
Natural Amadou Tinder (Premium Quality) 10g Bag
Excellent products, excellent seller, super fast delivery. Thank you. Robbie 03/07/2019
Really well packaged, brilliant.works very well'. Alan Knowle. 01/07/2019
Excellent service working perfectly first class communication, Grandad-75, 29/0/2019
Excellent service, working perfectly, first class communication. Mark Houlgrave. 18/06/2019
---
Polaris Fire Steel (temp sold out)
Hi guys ,I just wanted to say a massive thank you for my pendant plus the extras that you included for me you are both so very kind, it was such a lovely Father's Day gift to receive from my boys, thank you again. Kind regards Richard Kirk, 18/06/2019
---
Traditional 'Curly Viking' Style Flint & Steel Fire Striker
Excellent product,with a personal touch. Fast delivery. Great seller, Thanks. Dave Otter.03/06/2019
Brilliant little striker 5* A+++++ : 5vicaragebeam 03/06/2019
Excellent customer service and a great flint and steel ,very pleased thank you! Davina 03/06/2019
Super item and lovely extras thanks. Ana Japhone 03/06/2019
---
Vintage Leather 'Medicine' Style Pouch
Hello Helen and Mark,
Just a quick note to say thank you - both for the speedy delivery of my recent order – which is fantastic. I'm really pleased with the items – the mini leather pouch and medicine style pouch – Thanks a lot. I cant wait to get out start using the new pouches and I am sure I'll be back buying some more goodies! All the best and thanks again, Richard 15/04/2019
---
Irish 'R' Flint & Steel Striker Temp Sold Out
Hi Mark,I finally got "home" a few weeks ago and received your package. What a joy to use and a beautiful shape.Thanks also for the flint. I especially appreciate how one piece fits right into the jaws of my lock and makes nice contact with the frizzen.
The piece for napping is perfect for my bag too. I'm using it both as a "strike a lite" and a source of backup flint for the flintlocks. It's really liberating knowing I won't run out of flint for fire or flintlock in case I ever end up out much longer than intended. Thanks again! James 09/04/2019
---
Thank you yet again for the excellent products, first class friendly service. This is all so much appreciated Hels and Mark.
Do you know Hels and Mark, dealing with Beaver Bushcraft isn't remotely like doing business at all. Not in any sense of the word. From ordering to delivery, you guys offer that personal touch so well, that one knows it is heartfelt as one would offer to friends.. And as such, as each purchase is made and received, along with the extras too, I feel I'm coming to know you as such, just that, friends.. I love this little pouch guys. My Hudson Bay tin has gone straight into it. Thank you yet again Hels and Mark. Kindest of regards, Mally 14/03/2019
---
When you invest in a Beaver Bushcraft product, you are investing in a piece of history. Holding one of their products in your hands will transfer you back in time, a time when things were built to last. A time when you knew that when the proverbial hit the fan, you didn't need to worry whether your kit was going let you down. Their attention to detail is second to none. Their customer services goes above and beyond. All of this is backed up with a YouTube channel to show you how to use and take care of your new favourite piece of kit. Thanks Hels and Mark. Mark Eldington-Booth 19/02/2019
---
Hand Stitched 501 Classic Belt
Just a quick message to say thank you for the cracking belt. Had it for my birthday and it did not disappoint. Great quality and craftsmanship. Regards Jon Early On 2 Feb 2019
---
Products picked up from the post office and very happy with them, the speed of delivery and the additional bit of tinder. Kind of you. I enjoyed your videos too. Wish others were as clear. I've left reviews on two Facebook groups with 4000 members between them. Happy to support artisans who clearly care about what they do. Best wishes, Michael ,16/02/2019
---
Mark, I just received my jacket and I can't say enough how impressed I am with the quality of it. I can't wait to try it out in the outdoors! Please pass along to Green Outdoor.Thanks! Mike 13/02/2019
---
Hand Stitched 801 Bushcraft Belt
Hi Beaver Bushcraft
Thank you so much for the Belt it looks amazing and fits like a glove. I will be definitely recommend you to a friend. From Peter Pool 29/01/2019
---
Dear Mark, I have received the belt and it is fantastic, just the job.Many thanks indeed.Kind regards,Blair 29/01/2019
---
Hi Guys, Me again,
I got my parcel this morning in good order, and I was extremely pleased finding the belt crafted so well, it's something I will be proud to wear. Also thanks for the matching keyring, I will have good use of it! Finally, I want to thank you guys for the good service and your kindness! I will certainly recommend you to my friends whenever one is looking for this kind of gear you present on your webstore!
Kind Regards, Patrick. 25/01/2019
---
This is just a little snippet of a lovely email we received this morning from an equally lovely customer called Mally. We loved his testimonial so much we turned it into a mini blog. To read his full testimonial please click here or just read below for a little snippet of what he said....
Hi there Helen and Mark
I have to say, wow! Just wow! I am over the moon to say the least. The knife, sheath and fero rod are just pure quality.. And it hasn't been an easy ride getting to this point of satisfaction Helen and Mark.
And I ordered! I'm not disappointed at all. This is my lifetime bushcraft knife and it's going to get well used., I have been involved in bushcraft and survival for around 40 years, although it was all just survival in the early days. I've gone through the gear stages as we do, and now it's about less gear, but quality gear that I know is going to last me many years and even a lifetime in some cases. And that's why I'm glad I stumbled on your little cottage industry because I love the goods you produce. Mally 12/0/1/2019
---
Bespoke Hand Stitched Buscraft Belt
Now this is what I call a belt; lovely job - you could raise the Titanic on it! Thanks also for the additional loop, all much appreciated.
Best wishes. Roger. 11/12/2018
---
Hi Mark,
just to let you know I received the tin and the extras, which there really was no need for but very much appreciated, today and would like to thank you again for your efforts and the excellent personal touch. I was recommended to you by Paul Deore and will be singing your praises on all the social media sites I am active on. Regards John. 09/12/2018
---
Hi guys, received Amadou this morning. Wanted to thank you, and that I'm very pleased with my tinder,Looking forward to future orders. Thank you, Bill. 06/11/2018
---
Hi Beaver Bushcraft, I am absolutely delighted with the leather belt you made for my nephew's 21st birthday. It is beautifully made, looks superb and was made in the UK which was important to me. I am really pleased you are very busy you deserve to get so much business. Best wishes .Caroline Davies. 01/10/2018
---
Received my belt today, very pleased indeed. Superb quality and workmanship, and I love the colour. Thank you. J. E. 27/09/2018
---
Bespoke Hudson Bay Tinder Pouch
I'v just came home to a lovely surprise as I wasn't expecting my order until next week. I honestly wish I could thank you and show you my appreciation as the workman ship is such quality and beauty.Can't thank you enough and for the complimentary tinder and key ring such a kind gesture. I truly wish you weren't so far away as I'd have asked to learn from you. True blessings Jo 22/09/2018
---
Dear Helen & Mark, Thank You my order for the Beaver Bushcraft RUNE Pendant 'Flint & Steel' Striker COLLECTION (85-1510-1527) As always a service 2nd to none. Thank You! Kind Regards D. W. 20/09/2018
---
Hi Just wanted to thank you for the lovely piece of Hudson bay leather pouch.. Many thanks for the mini torch which is proving very handy already. Thanks. Faisal 12/08/2018
---
Anyway the good bit is that the belt is brilliant .It is a relief to not have to keep hitching my trousers up. If you have a reviewing site I would be glad to mark you at 5 stars. Let me know if you do.Thanks for everything. Regards, Brian 12/08/2018
---
Hi, just a quick message to say thank you for such great work, very impressive & appreciated. A T (New Zealand) 10/08/2018
---
Hi! Just received my Hudson Bay and Zippo pouches. Very pleased indeed. They are beautiful pieces of work, lovely to handle, superb.
And free gifts! They're actually useful too! Brilliant. I feel quite spoiled! The Hudson Bay pouch is just right for the job I had in mind. The only drawback is that it really would look better with an appropriate tinder box inside . . ! So I guess I'm going to have to get one for it! Chuckle. I shall have a look shortly. I've been after a decent Zippo case for years. Most versions I've seen have press studs on the belt loop. Not particularly secure. Your versions are great. Proper leather, properly made. Built to last! Cool.It's a genuine pleasure dealing with you. I've found you approachable, honest and, of course, your broad knowledge and experience makes it all very interesting!Thanks again! Best regards, Alan 05/08/2018
---
Just taken delivery of my new twin pocket medicine pouch. It's very nice indeed! You know, your level of service is excellent. AB 09/07/2018
---
Just received my order...Amadou fungus...superb fire lighting qualities.. excellent product.....fast delivery...... many thanks.Mal. 05/07/18
---
The Irish Traditional Fire Steel
Just managed to avoid setting fire to me shorts. Lol.Seriously, I've had a few steels over 40-odd years, some broken, some stolen, some gifted away. This one is a delight and, assuming my son doesn't appropriate it, will be a much valued companion! The Irish style striker is a beautiful piece. I really like the way it sits on the hand. Lovely. I'm very pleased with how quickly it arrived too! AB 01/07/2018
---
Hello, received my bespoke 911 professional belt & bespoke quick release belt loop. Nicely packaged, very pleased, well stitched, nice solid brass, looks great, many thanks steve 23/5/18
---
Round Tin Mini Tinderbox Flint Steel
The black tobacco tin is great but I absolutely LOVE the mini tinderbox kit! Lots of big sparks from such a small striker and piece of flint (though not as tiny as the piece in your demo video; Impressive!). It is going to be a superb showing off kit and such great fun!!
Excellent goods and fantastic customer service, as always. Thank you once again. David 19/04/2018
---
Fire Storm with Leather Case
Hi Mark, I meant to email you much earlier to let you know I received the order. It is magnificent, the tool itself (bellows) is such a smart bit of kit, and the leather sheath is simply gorgeous. What a treat, also, and so very kind and thoughtful of you, to include a small bag of kapok! I'm super excited to use it. Thanks, again, and best wishes to you and the spring season.- Leslie 09/04/2018. Click Here To View
---
Bushcraft & Survival Diamond Sharpening Kit - 180/1000 grit (25-8000)
WOW! Just WOW! I used the kit last night and had amazing results with some very blunt kitchen knives, I recorded my efforts and will be placing it up on YouTube I'll let you know when it's live. I wish I'd discovered you a year ago! Craig Taylor 18/03/18. Click Here To View
---
Mini Pocket Parabolic Solar Mirror with Leather Pouch + Tinder Bundle (85-5010)
I'm happy to say your parabolic mirror arrived safely yesterday with accompanying tinder and sulphur matches. Given today's intense snow flurries I was not hopeful about trying it out, but we had a period of blue sky, so I had a chance to test it with a tin of charred punk wood. Despite a cold wind and a light dusting of snow falling, your mirror managed to create a good ember in less than a minute. Very impressive, given the adverse conditions, so this will be a permanent addition to my flint and steel kit. Thanks again for making good products.Kind regards,Gordon,Nottingham,18/03/2018
---
Hello, I just received my order today I am more than satisfied. Very beautiful material. High quality. I will recommend on your site. Thanking you cordially. Mr Johnson 08/03/2018
---
Bushcraft & Survival Diamond Sharpening Kit - 180/1000 grit (25-8000)
Hi again Mark. I am extremely pleased with the pre-sale advice I received and the product itself [ the bushcraft diamond sharpening kit ]. Particularly impressed with your video tutorial…great presentation and nice to have an expert so clearly lead you by the hand into something you've not done before. Best wishes. Cam. 27/02/2018 Click Here To View
---
Natural Amadou Tinder 'PREMIUM QUALITY' (5g) - Horse Hoof Fungus Pieces (85-4050)
Just a thank you note - got some Amadou from you, and I'm a happy customer - top quality product, great communication, and all-round good experience ...thank you! - Ash. 23/02/2018. Click Here To View
---
Dear Mark , Just to say that the sheaths arrived safely this afternoon: thank you - they are absolutely magnificent. I am out very early tomorrow and all day, but I will try to write something that does them justice. You are, truly, an artist and craftsman of rare quality. With tremendous respect and very many thanks indeed. An imaginative designer and a gifted artist, I was impressed by a pouch I bought from his website, and asked him to create somewhat unusual custom sheaths for my two favourite bushcraft knives - the work he produced was both beautiful and extremely practical. The quality of the leatherwork is first class and I am absolutely delighted. Himself evidently an outdoorsman, what sets him apart is his understanding of the practical aspects of design as form follows function. The sheaths are magnificent and will outlast me. Unlike me, they will only get better with age. You won't find better: I cannot praise his work too highly. Yours aye, Stephen Dudley 28/02/2018
---
The Beaver Blade Necker Knife Bushcraft Set - 2 Finger Grip - Mini fire Lighting Kit
Hi Mark and Helen, Just writing to let you know my beaver blade necker knife has arrived today in post today. I absolutely love it, the workmanship and presentation is perfect.I saw a picture of it on Instagram on Thursday then rushed to your website and saw you had one left. Feel so lucky to have got this Beautiful little knife . Thank you so much for all your hard work. Kindest regards, Milton Smith. 13/02/2018. Click Here To Veiw
---
Traditional Hudson Bay Brass Tinder Box with Hand Forged Fire Steel (85-2010-BR)
For the record the "Hudsons Bay" tinderbox, it's a fab piece of kit! Well made with that authentic feel about it, with quality tinder inside, it's good to go right out of the box! I tried this kit out immediately after the postie dropped it off, first with the magnifying glass around 09.30 and it worked a treat, even in mid January! Next with Flint & Steel, a bit longer this time, about 5 mins to get a good technique (actually forgot just how to do it!!!) and it was just perfect. On my Woodland Wayer Course two summers ago, it took me 2x30 min sessions to actually get an ember to a flame. Well pleased with the kit, a living piece of history - still good today as it ever was! Martin Spearman. 30/01/2018.

---
Hi, Just wanted to say a great big thank you all the way from New Zealand for the flint and steel I ordered recently. It was exactly as I thought it would be. Your service has been exceptional and appreciated. Dont change a thing, regards Andrew 30/01/18
---
Got it Mark, very pleased. Thanks for the extra flint and tinder samples. Outstanding service once again. Bruce.Parry 24/01/2018
---
Hi, I just wanted to say a MASSIVE thank you to you, Mark and Helen, for the amazing job you have done on the leather work and all the tinder included! The fantastic attention to detail is incredible and to say I m extremely pleased would be an understatement. Thank you also for the upgraded Andrew Kirkham fire steel it really is a work of art and works great. Thank you so much also for all the extra tinders you provided, I can t wait to try them all! Once again my sincere thanks for all the work you put into my order, you guys rock! Many thanks, Ryan. 23/01/2018
---
Thank you for my beautiful Tinderbox and your generous gift of Flint and additional tinder. I have tested it and I am delighted with it. It is functional and elegant and I foresee many years of usage. Once again, Thank you. David Hair 19/01/18
---
Excellent products promptly dispatched. Emails answered within the day. Always pleasant and polite. Will definately buy from them again, and always look there first when shopping for bushcraft products. If i get good service i tend to stick with the same companies. I would put B B in same league a Ray Mears woodlore for customer service, simply the best! Regards, Chris Carter17/01/18
---
Cant think of how to describe the quality of the leather work by Beaver Bushcraft they make some of the very best leather goods I have ever seen in over 50 years. I really think that other companys should learn from you in the production of the very highest quality hand made leather kit for people who want the best. With the nicest customer service I have known. Ed Brann 10/01/2018
---
Amazing and beautifully crafted leather work and wonderful people. The best natural bushcraft equipment you can buy.
You can buy with confidence knowing that your purchase will last your life time and then be passed on to the next generation. Buzz Mead 10/12/2017
---
Hi Mark. Just wanted to say cheers for supply of awesome smock. Pass on my thanks and big appreciation to Green Outdoors for the great design.....looks like a better textile choice version of FjallRaven smock....well done Marcus :) Regards Andy 06/12/2017
---
I Just wanted to say thank you for the belt pouch and draw cord pouch both are fantastic the pouch now carries my pain meds and the draw cord my keys. Great to see work of this standard made today here in the UK keep it going and I will keep buying . E Brann 02/12/2017
---
Hi Mark .Everyone is delighted with their Bottles.They have gone down very well with our guests so thank you. Pippa Middleton 23/10/2017
---
Hi Helen and Mark, Gransfors Bruks axe sheathes (small forest and scandanavian) an overstrike collars.I was very pleased with these axe accessories, the quality/build is impressive, perfect fit and finish and really complement the axes.Service and follow up are outstanding. I would highly recommend your business to all. Thanks so much. B Perry 21/10/2017
---
Good morning Mark, thank you for the bushcraft belt it is excellent. A very pleasant surprise to receive a gratis belt loop/dangler from yourselves, very considerate. Best regards Edward Leszczynski 17/10/2017
---
Hi Mark. The kit turned up today, I have to say it is amazing quality and just absolutely fantastic, the leather work is stunning. It has been a really good experience shopping with you at Beaver Bushcraft and I will be returning to order more kit. Thank you Regards Bill 13/10/2017
---
The pouch arrived today and it is a very nice piece of craftsmanship. Thank you, best regards Gerrit van Lieshout 10/10/2017
---
Just a thankou for your very fine work I have recieved, leather work that will last a life time. Perfect for my needs, not often that work of this standard can be found and a company who care about the customer. Thanks again Ed
---
My pouch arrived today. Very pleased with it. Excellent quality, very old school. I now have the best fit kit ever, part traditional and part modern.
Thanx ...... Gordon
---
Hi there. I just wanted to say that my recent purchase of the Bushcraft & Survival diamond sharpening kit has been fantastic. What a difference it has made to my knives and my ability to get an outstanding cutting edge. Truly has been the best sharpening kit by far! Amazing products!
Thank you. Eddie Murphy
---
Just a quick line to say thank you very much for the belt which I am highly pleased with and also thanks for the extra belt loop. An excellent service.
Kind regards, Chris Reeve
---
Hi Helen and Mark, Just received the package by mail. I was amazed with the outstanding quality. Thank you very much, it was worth waiting for it. I was also wonderful surprised by the additional belt loop. It already found its function as a pocket watch lanyard.
These items are made for a lifetime and beyond. Thank you, best regards. Peter Rondou
---
Hi, Just a quick note to confirm receipt. Thanks very much, the case is beautifully made and I'm really happy with it. Kind regards, Bob Hodges
---
Hi, Just wanted to let you know I received the hatchet sheath and it is beautiful! Thank you for the fast turnaround time! Randy
---
Hello Mark, Just a quick note to say I received my order (Hudson Bay) yesterday. Very nice. Tried it out, and had a glowing char, then a flaming jute nest in no time.
Thanks for the generous amount of flint. Should last a lifetime. I only wish gun flints were priced as cheaply, comparatively over here.
I am new to the whole Bushcraft way. Usually camp in forestry campsites with picnic tables and car access. Once again, thanks. Am glad I came across one of your u tube videos. Mitch McCrea. Maple Ridge, B.C. Canada
---
A quick message to let you know that I have received the item and am more than happy with it. Thank you for your great service and excellent quality handmade items. Kind regards, Daniel
---
Dear Helen & Mark, Received my order from you all yesterday in the post and just finished testing everything this morning.
Everything was "OUTSTANDING IN EVERYWAY"……….Your Sulphur Spill Matches performed exceptionally well and I'll be using them in my teachings in the future.
Thank You, Stephen G. USA
---