Your Comments - Tinderboxes
CUSTOMER FEEDBACK & PHOTOS - Tinderboxes
Tinder Box Starter Kit for Flint & Steel
Good afternoon, Parcel arrived safely this morning . Thank you very much for all your help regarding this order and your thoughtfulness in " doctoring " the contents of the starter kit to make it suitable for the age of my grandson. Can't wait to see his face when he opens this particular gift. I really do appreciate all your help - thank you again. Kate 29/03/2021
---
Always great to see our our German Silver Hudson Bay Tinderboxes are coming along with their new owners. The photo on the left is by deathoftheparty on Instagram & shows what a great patina is now has and plus how great the Hudson Bay Belt Pouch looks too. The other pic is by Andy from birch_bushcraft and again shows how great these kits look aftertime.
---
Thank you very much for my extra items, I love my tinder box. Won't hesitate to buy other items from your company. Thanks Ryan 30/01/20
---
A great photo from whatwoodysees on Instagram of his classic Beaver Bushcraft Tinderbox (sadly now out of stock) but hope to get more made up soon.
---
Hi Mark, I got my order today, Everything thing looks great! My husband is wicked excited to try out his new fire lighting kit! Thank you (USA) Rachel Maslowski 1/07/2020
---
Hey, I would to say thank you for a great service and the extra tinder supplied, everything arrived well packaged and the leather pouch put a big smile on my face as well as the other bits, but it was all the little details that really made the whole order great, a lot of care and attention. Many Thanks. Chris Haywood. 21/05/2020
---
Hudson Bay Tinderbox & Leather Pouch
Heya Hels, Thank you for my order. I love the tinder box, the steel and the pouch. All are top dollar! and the all extras.. amazing! I'm totally made up! 😊 Pouch is on my belt as I speak and feeling like the Mountain Man I always wanted to be when a kid.Lots of practice to now follow. I know it will take time to develop this new skill but I seem to have a lot at the moment 😊 Well what more can I say, apart from again thank you sooo much. Keep up the good work.You are truly an amazing couple of crafts folks and lovely couple to know.I look forward to the day I can meet you both and shout you a beer or few 😉Take care my dear friends.Stay Safe 🙏❤️With best wishes and to a better future. Kind regards, Rob Pickering. xxx. (UK) 20/05/2020
---
Thom_bushcraftportal_cz always takes some amazing lifestyle photos on his instagram account. Here's a few he's taken featuring his Beaver Bushcraft Brass Hudson Bay Tinderbox
Love this photo by Tenderfoot_Bushcraft on Instagram of his new copper English (Beaver Bushcraft) Tinderbox that he got for his 30th Birthday. Happy Fire Lighting !
---
Hello, i just wanted to say that i recieved the kit today and thank you for it! It's a really cool little flint and steel kit and thank you for the extra amadue and flints that you sent. I was working on getting it to spark ( I'm new to the flint and steel ) My friend anxiously watched me to no avail and so she said let me see it, she wanted to see if she could get it to spark and she did! So im going to practice. I want to go back to your website and watch that video on it that shows you using it. The kit is really awesome and compact and can fit in a small pants or shirt pocket! I'm going to put the brimstone matches and small candles in a little bits and bobs necessities tin im making up! Thanks again! You guys are awesome and your site is full of cool bushcraft items. I'm going to recommend you to all the people who i know like camping and bushcraft. Thanks again for taking time to respond to me and the great customer service. I hope to order more in the future. Keep in touch. Angie Collins 18/04/2020
---
What a lovely photograph sent into us from Bill Mead of his collection of old Beaver Bushcraft Tinderboxes he's been collecting.
---
Great item. Fast delivery. A great birthday present for friend. Thanks! mfagg 30/01/2020
---
We love seeing our Hudson Bay Tinderboxes in use. These pics were from Renzo Cimone Outdoors who runs a Bushcraft School in Italy. We met Renzo and his team at last year's Bushcraft Show and its so nice to see that he uses his Hudson Bay Tinderbox out in the wilds.
Mark

Thank you very much the Hudson box arrived yesterday, together with your very generous extras, which was a very nice surprise. Happy Christmas. Graham 22/12/2019

Hi, Thanks. Received today. Love it. Merry Christmas. Ken Harris 20/12/2019
---
Another lovely customer called Richard Kirk sent us a pic of his recent purchase of one of our very popular Classic Tinderboxes.
Recently we recived a lovely set of photos from Chris @ Katana_Hiker on Instagram of his recent purchase of one of our Flint & Steel Classic Tinderboxes. he also did a great video of it n action as it was his first time using Amadou with Flint & Steel.
Hello, Many thanks for the vintage snuff box tobacco tinderbox which safely arrived a couple of days ago. I'm delighted with this item, which is half the size of the previous flint and steel kit which I purchased from you. It is the perfect size for my every day carry, and thanks for the extra flint and tinder!
Kind regards,Gordon 22/11/19
---
Beautiful photo taken by Dave Jonesy Nutall of his beautiful Beaver Bushcraft Brass Hudson Bay Tinder Box. Thank you so much for the tag Dave. Love how the Tinderbox is taking on its own character.
---
Hi there, My order arrived here yesterday, thank you. Everything looks great. It's for my daughter for Christmas, she is going to love it.Thank you.
Kind Regards, Pauline King 03/11/2019
---
Dear Mark, Dear Beaver Bushcraft team, After a week abroad, I finally had the pleasure of picking up my Tinder Box at the post office.
I wanted to take this opportunity to thank you and congratulate you on your professionalism. It was the best online shopping experience I have ever had. This is largely due to your short emails informing me of the development of my order. Now I'm going to hurry out and enjoy the fresh air and my new tools. Again, thank you for everything. Warm greetings from Switzerland ! Emmanuel 28/09/2019
---
'These guys pull it out of the bag, loads of extras. Well done. Mark and Helen'. Lovely comment and photograph from Graham Crane.18/09/2019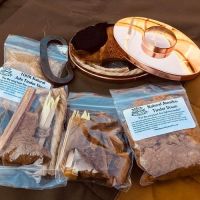 ---
Copper Hudson Bay Tinderbox & Pioneering Pouch
Hello Helen and Mark, Just received my order all in tip top condition, WOW Awesome quality and as always top craftsmanship fantastic I am over the moon thank you so much, Kindest regards Geoff :) 18/09/ 2019
---
Bushcraft Boy Jones on Instagram, sent us these awesome photos. One of our exetemely popular Brass Trappers Tinderboxs with one of our leather Pioneering Pouches. The last photo shows an action shot of the sparks created by the Oval Fire Steel. Love this !
The Hudson Bay Tinderbox
Dear Helen & Mark. My daughter bought me one of your Hudson Bay kits for Father's Day. May I say what a fantastic piece of Kit it is? The quality is superb. It has to be my 'go to' item from now on. Thank you. Andrew King 17/06/2019
---
Hi Mark, Just to let you know I received the tin and the extras, which there really was no need for but very much appreciated, today and would like to thank you again for your efforts and the excellent personal touch. I was recommended to you by Paul Deore and will be singing your praises on all the social media sites I am active on. Regards John. 09/12/2018
---
We are loving this photo sent in by Paul Blackburn. It shows off his Beaver Bushcraft Trappers Tinderbox, one of our mini Viking Fire Steel neck pendants and one of our mini pocket strops. Love it!!!
Hello from Sweden. I just want to start of by saying that I am very pleased with my earlier purchases from your website. I have already used my Trappers tinderbox to light many a fire. From here on after you will be my main supplier of everything bushcraft :) Best regards Emil Berglund 26/11/2018
---
Mini Tinderbox Hand Stitched Leather Pendant
Hi Mark, Thank you on multiple accounts. 1st... quick delivery brilliant .2nd the free extra tinder & flints unexpected and well appreciated.
3rd wow I just love the craftsmanship in the leather pendants, this has gone straight to the top of my favourite tinder pouches and i know it will be coming on many an adventure with me (fell walks/camping). I have so far found it surprisingly easy to use 4 out of 4 attempts successful so far. Although I can appreciate people with shovel sized hands might struggle at first but with a bit of practice would become a well-loved and cherished bit of kit. The craftsmanship that's gone into making this product will last a life time easily and I can admire & appreciate it's quality. Regards, Scott. 18/11/2018
---
This photo was taken by Clive Smith showing his Beaver Bushcraft Copper Hudson Bay Tinderbox, tinders and one of our handmade leather Pioneering Pouches made in natural russet. Over time this kit will take on a great patina and have its own charactor.