Customer Photos
Be part of our journey at Beaver Bushcraft.
This Page is dedicated to our Customers and fellow Bushcrafters who have bought our products and have made them their own. We love seeing our work in action and most importantly, being used! We hope this Page inspires other people to take photographs of our items in action and share them with us. To feature on this page you can contact us via our Email address: [email protected] or Facebook @ Helen Hordon or Mark Hordon (Tag or P M) or Instagram: Beaver Bushcraft (Tag or D M).
Ian Monaghan sent us this photo of his recent purchase from us, one of our 'limited edition mini fire lighting kits' that comes in its own hand crafted leather belt pouch. We hope he gets many years of enjoyment from it.
On the left is a pic from rebelinthehills of their Beaver Bushcraft 'Vikking Hump Back' Fire Steel and in the middle another of wildnwelloutdoors awesome pics on Instagram of his BB Tinder Teaser. On the far right is a picture from Dean Johnston of his collection of his BB Fire Steels. Dean is a huge collector of fire steels and a great YouTuber too.
---
And some more tags this week on Instagtram: On the left is a photo from
whatwoodysees
of his classic Beaver Bushcraft
Tinderbox
(sadly now out of stock) and on the right a photo by
kristianjersing
of his unpacking of his overseas order from Beaver Bushcraft
---
A couple of photos seen on Instagram this week featuring our products. On the left is a pic by
wildernessadventure
of his BB
Leather Solar Pendant
in use. On the right is a pic by
wildnwelloutdoors
of his Beaver Bushcraft
Tinder Teaser
.
Two more photos that we were tagged in this wethis week ek, on the left was taken by carolina_chris_ outdoors on Instgram of his Beaver Bushcraft Dragon Boat fire steel and on the right was taken by lisablueglass of her Beaver Bushcraft Sea Horse fire steel striker.
---
Phillip Ruffley
sent us this great photo of one of our
anaimal strikers
that he'd sent out to his frind out in Brazil. Love this photo.
Always great to see that Renzo from renzo_cimone_outdoor uses his Beaver Bushcraft copper Hudson Bay Tiderbox whne he's out teaching fire lighting techniques at his Bushcraft school in Italy.
---
As tagged in by drakes_landing on instagram.
---
On the left is a pic from ant_on_leather of his Beaver Bushcraft traditional Viking fire steel he recently purchased and on the right is a photo we were tagged in by joes_outdooradvetures of his traditional 'R' Shaped fire steel striker.
---
Loving this action shot from
dirty-old-burton
on Instgram of his Beaver Bushcraft
Fire Steel
. Great to see it being used with some
Amadou
.
---
A recent tag are these photos from dru_nen on Instagram of the bespoke leather zippo case we recently made him for his cool 'Tree of Life' lighter.
We were sent this lovely photo from a customer called Gerard Wiseman who ordered one of our handmade leather Cuffs for a photo shoot his friend was doing. Great photo and the cuff compliments the tattoo beautifully.
---
Two more tags on Instagram one of our mini little Flint & Steel Tinder Kits (left) from dads-bad-photos & one tag from Mike Vaughan (right) of one of our Tinder Teasers that he added into his own kit.
---
Great to see our products is use, here's a couple of photos by joes_outdooradventures on Instgram of his 'R' shaped BB traditional Fire Steel striker.
---
Found this little gem of a photo on an Instagram story by rob_bousefield of his mini triskele Beaver Bushcraft fire steel pendant. Liitle but still makes sparks!
We were trawling though Instagram yestreday when we came across this photo of one of our distressed leather Sami Style Pouches and these lovely comments by jw_apothecary :
---
This lovely photo of one of our new triskel Curly Viking inspired Fire Steels was sent to us by Steph Frs
This is such a great photo from Ivargasyoga on Instragram & show cases their collection of Beaver Bushcraft fire lighting items. We love it!!!
This picture was taken by camping_cooking 101 on Instagram of one of our mini leather 'bottle holders' that we made with each one sold we gave £5.00 to the NHS. It was so nice to be able to give something back to such a great cause.
Thom_bushcraftportal_cz always takes some amazing lifestyle photos on his instagram account. Here's a few he's taken featuring his Beaver Bushcraft Brass Hudson Bay Tinderbox
---
We were tagged in theses photos by Bloodynice65 on Instagram of one of our hand stitched leather bottle holders.
Love this photo by Tenderfoot_Bushcraft on Instagram of his new copper English (Beaver Bushcraft) Tinderbox that he got for his 30th Birthday. Happy Fire Lighting !
We were tagged in this photo by Hawthornbushcraft who had recently purchsed one of our bespoke leather belts & belt loops so that he he could put his own leather pieces on that he made himself. Nice to know our belts are put to goood use.
John Parry tagged us in these photos on the Traditional Tinderbox Admiration Society group on facebook. The photos Show one of our Viking style Fire steels and one of our very popular starter Tinder Pouch kits.
---
woodsmon on Instgram also did a short video of one of our tiny pendant strikers and challanged several of his followers to see if the could create sparks using a small piece of Flint & a tiny striker. "Tiny Spark Challenged myself. Inspired by finding this tiny flint shard on my walk today. Pendant fire steel from Beaver Bushcraft always around my neck and a little char cloth".
---
wildwelloutdoors on Instagram not only took a few photos of his Beaver Bushcraft Combo Fire Strikers and his Tinder Teaser but he also left a few nice words about us too.
---
a.m.bushcraft_hunting on Instagram tagged us in these recent photos he took of his new Beaver Bushcraft Clasic Tinderbox he recently purchased from us.
---
Mike Vaughan
sent us this photo of him wearing one of our
hand stitched leather mini bottle holders
. We wanted to do something that would also help the NHS during the Corona Crisis, so for every one sold we donated £5.00 to the NHS charity
---
Graham Crane
on the left and the
Salt Box UK
on the right showing their latest purchses of our
Combo Fire Strikers
. We have been producing these little strikers for about 7 years now and are one of our best selling EDCs of all time.
Prepper_in_the_woods always does some great YouTube footage. Its great to see so many of our products featured in other peoples videos. This particular photo shows one of our Brass Hudson Bay Tinderboxes.
---
Vildmark on Instagram always does some great photos and YouTube videos. This photo shows one of our hand forged traditional R shaped fire steels.
---
Big_Man_In_The_Woods on Instagram of his recent prize. Mark was nomitaed by a friend of his for a recent Give Away that we did for our hard working Key Workers during the Civid 19 crisis.
---
rar_knives_ and_leatherwork on Instagram of his Beaver Bushcraft bespoke leather solar lens.
---
Carrotcake20 on Instagram of their mini Beaver Bushcraft fire steel pendant
---
Daniel Alymer. We were tagged in these photos from Daniel Alymer from the 'Lyde River Rendezvous Meet ' of him wearing his Beaver Bushcraft leather neck pouch & his photo of our Beaver Trading Post Sign.
---
Martin Rolin.
This is one hell of a photo taken by Martin Rolin who is the cheif instructor at Silver Back Buscraft School. This is of his Beaver Bushcraft 'Dragon Long Boat Fire Steel' that he was using. What an epic pic!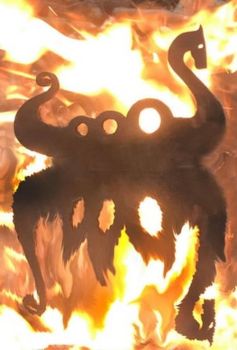 ---
Paul Eldridge. This photo from Paul Eldridge shows off his collection of some of our bespoke leather work. We do make it to last too.
---
Rezone From Cimone Outdoor Bushcraft. Loving Renzo's photoss (from Cimone Outdoor Bushcraft School) of his fire lighting kit that he uses for teaching. Featuring one of our Copper Hudson Bay Tinderboxes and Thor's Hammer Flint & Steel Strikers. It aways gives us a sence of pride knowing our fellow Bushcrafters actually use our products for teaching and demonstrating.
Tea2Sugars. We were tagged into these photos by 'tea2sugars' of his father's old axe that he wanted to restore. He used one of our handmade, hand dyed axe collar gaurds to finish the restoration job.
---
Bill Maed aka FireBuzzy. An awesome set of Photos from FireBuzzy of his collection of beaver Bushcraft Vintage Tinderboxes and collectables. Absolutely buzzing !
Wanderessex. Another great tag on Instagram, this time from Wanderessex of his outdoor equipment featuring his Beaver Bushcraft Pouch & Copper Hudson Bay Tinderbox.
---
Vildmark.co.uk. Another couple of photos from Vildmark.co.uk of his Beaver Bushcraft viking style Fire Steel that he's been using for his YouTube series on traditional Fire Lighting.
---
Sebastein9887 on instagram tagged us in his collection of his fire Lighting kit including some great pieces from Beaver Bushcraft. Including his beautiful Brass Hudson Bay Tinderbox.
---
Thor's Hammer Traditional Flint & Steel Striker
We do hope that 'ageminidragon' on instrgram doesnt mind up reposting his photos that we were tagged in and his lovely comments about our products:
"Got my awesome Thor's Hammer steel pendant & Flint strikers with a handy little pouch from #beaverbushcraft – A great UK-based Bushcraft supplies store I found online. Would highly recommend anyone wanting to get into Bushcraft to check them out" .28/01/2020
---
The Bushcraft Show
We can spot on of our Hudson Bay Tinderboxes and Randy's hand forged fire steels a mile away! This great pic was taken by the guys who run the 'Bushcraft Show' & The Bushcraft & Survival Magazine.
---
Thom_Bushcraftportal_cz
This is such a great photo from Thom_Bushcraftportal_cz on Instagram. Thom is a Knife Maker and his blades are pretty awesome so to be tagged into one of his photos for us is such a prividge. This shows one of our Brass Hudson Bay Tinderboxes and check out the beautiful patina.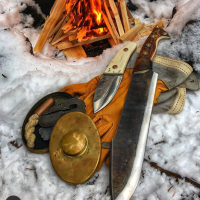 ---
Jan 2020 on Instagram and another set of photos of our Tinder Teaser. The one of the left is by Wildnwelloutdoors on instgram and the one on the right is by Prepper_In_The_Woods: "As a striker for a ferro rod this guy throws some good sparks @ beaverbushcraft". Always good to read our customer comments. Prepper_In_The_Woods has also done a neat little video on his You Tube channel of the Tinder Teaser. He even found some extra uses for it that we hadn't even thought of.
---
Some more great tags from our customers on Instagram this Dec 2019. Thank you so much guys.
We love seeing our Hudson Bay Tinderboxes in use. These pics were from Renzo Cimone Outdoors who runs a Bushcraft School in Italy. We met Renzo and his team at last year's Bushcraft Show and its so nice to see that he uses his Hudson Bay Tinderbox out in the wilds.
And another tag this week this time from Bushcraft Boy Jones of his outdoor kit featuring a Beaver Bushcraft Leather Tinderpouch.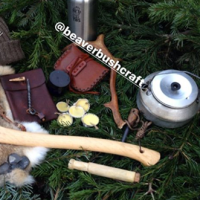 These two photos are from Prepper_In_The-Woods showing his rather impressive Fire Lighting Kit and so great to see one or two items in there from Beaver Bushcraft. Our popular Tinder Teaser is begining to be featured quite a lot recently.
This photo we were tagged was taken by humbertocostagn02 on Instagram of his Viking Style Fire Steel pendant featuring the Rune Symbol for Fire.
This photo was taken by Yjean56 showing the contents of his Beaver Bushcraft Hudson Bay Tinderbox and one of our origanal Fire Buddies. So great seeing some of our older designs still in use.
---
Another lovely customer called Richard Kirk sent us a pic of his recent purchase of one of our very popular Classic Tinderboxes.
Recently we recived a lovely set of photos from Chris @ Katana_Hiker on Instagram of his recent purchase of one of our Flint & Steel Classic Tinderboxes. he also did a great video of it n action as it was his first time using Amadou with Flint & Steel.
This great photo was sent to us by a lovely customer called Richard Oldham of his recent Beaver Bushcraft purchase, all 'made to order' from our bepsoke leather range for his outdoor kit. Love it !!!! This should last him quite a few years.
---
We were recently tagged into these great photos on Instagram by Vildmark.co.uk. of his Beaver Bushcraft Viking Fire Steel & Tinder Kit. Great to see someone using old school fire lighting to light their outdoor frontier stove.
---
Great pic from Wildnwelloutdoors of one of our old designs. This is one of our Fire Buddies, its a multi fire lighting tool. Perhaps its time we made some more?!/!?
---
Beautiful photo taken by Dave Jonesy Nutall of his beautiful Beaver Bushcraft Brass Hudson Bay Tinder Box. Thank you so much for the tag Dave. Love how the Tinderbox is taking on its own character.
---
Another great shot from Vildmark.co.uk of his edc pack including one of our Hessian Tinder Pouches for Flint & Steel, full of all the basic tinders you need to start a fire the traditional way. Thang you for the tag !
---
The Salt Box
Came accross this great action shot on Instagtram that we had been tagged into by 'feast_over_fire' at The Salt Box. Photo shows him with a smoking Tinder Bundle created by using some of our Tinder products. Love the quote on his post "Happiest when blowing smoke & making fires"....we know the feeling :D 14/10/2019
---
A lovely autumn photo sent to us from Andy Turner from Birch Bushcraft of his Shark Designs Survival Knife, sadly we no longer make this knife as they were a limited edition. Maybe someday we will do something simalar. Lovely to see it again though :) 12/010/2019
---
'These guys pull it out of the bag, loads of extras. Well done. Mark and Helen'. Lovely comment and photograph from Graham Crane.18/09/2019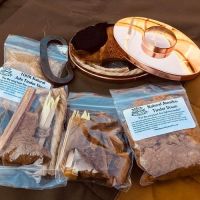 ---
We recently attended the Scout Reunion at Gilwell and saw this great post & photo from Mark Yates aka 'Big Man In The Woods' about our handmade leather Keyrings and Woggles : "I love these Scout woggle and Key rings that @beaverbushcraft had at Gilwell Reunion. Their leatherwork is amazing! Did anyone else manage to get a leather woggle from Beaver Bushcraft??"
We came along this great little post on Instagram from Crosby-Darren about his traditional Fire Steel and ferro rod he purchased from us at Beaver Bushcraft. Always nice to hear nice things said about us.
---
What a great photo from Renzo @ Cimone Outdoor Bushcraft and Survival School - Celtic festival Modena and he even added a liitle post to it saying: "fire Skills dimostration with the Beaver Bushcraft Hudson bay box... Amazing Gear!"
The Salt Box
What a great repost on Instagram from a company called The Salt Box UK who do alot of out door cooking courses and banquets using wild produce. Their phots shows one of our Viking Fire Steels with hessian Tinder Pouch and one of our Fire Pistons from the website. Hoping they had lots of fun using all these items!
---
We saw this great post on Instgram from 'madeinnature' about their Beaver Bushcraft Tiskele Fire Steel Pendant. Great little review.
---
Two very differently styled photographs from two of our closest bushcraft collegues, on the left is a photo from Renzo Dinozzi from Cimone Outdoor Bushcraft displaying his Beaver Bushcraft Copper Hudson Bay Tinderbox that he recenly purchased from us at the Bushcraft Show. On the right is a lovely black & white shot from Micheal McCallister from the North West Hypotherapy Clinic showing off his Beaver Bushcraft Viking Rune Fire SPeel pendant. Thank you for the share guys :)
This photo was sent in from Jim Stilgoe of his Beaver Bushcraft Viking Rune Pendant and one of our Tinder Pouch Starter Kits. Thank you so much Jim :)
Bushcraft Boy Jones on Instagram, sent us these awesome photos. One of our exetemely popular Brass Trappers Tinderboxs with one of our leather Pioneering Pouches. The last photo shows an action shot of the sparks created by the Oval Fire Steel. Love this !
Justin Jewel tagged us in this post from facebook of his recent purchases from Beaver Bushcraft. One of our Classic 'C' Strikers & various Tinders.
We had some lovely tags last week (01/07/2019) via our instagram account. Some more of our lovely customers sharing their photos of their recent purchases. Thank you so much :) From top left to right: Rusty and the Woodsmon, The Saltbox UK & Vildmark.co.uk.
Bottom row left ro right: Wildnerness Adventure, Black Wof Survival and Bushcraft boy Jones. Thank you guys!!!!
Thank you for the tag Darryl :) One of our lovely customers showing off his recent purchase, one of our extemely popular (Pocket Bellow) Storm Pipes and hand stitched natural leather sheath with a few Tinder packs to go with it :)
Its not only photos of our products we get sent, this picture was taken by Paul and his son at the Ldye River 18th C Rendezvous Meet that we attended last week. Love seeing peoples photos of our Beaver and Sign Post when we go to these shows. I think the Beaver gets more photos taken of her than of us!
We were recently contacted by James Ian David Lankester, who had previuosly purchased one of our traditional fire steels. James was so pleased with his Fire Steel that he asked us if we could put together a trditional Fire Lighting Instructors kit so that he can teach Flint & Steel Fire Lighting down at his Campsite in Cornwall, 'The Copper Pot Campsite' based in the beautiful Tamar Valley. We willingly obliged and it sparked an idea off for a new listing. Keep an eye out for our new Instructors Kit coming out soon :)
---
We were absolutely blown away when we were tagged in with these pictures from Ellis and his buddy John. They bought a couple of our Make Your Own leather Sheath kits and this is the standard they produced. I think we are going to have to employ them in the workshop as extra 'workshope eleves' !!!!
https://www.beaverbushcraft.co.uk/ourshop/cat_1558981-LEATHER-CRAFT-KITS.html
---
We are loving this photo sent in by Paul Blackburn. It shows off his Beaver Bushcraft Trappers Tinderbox, one of our mini Viking Fire Steel neck pendants and one of our mini pocket strops. Love it!!!
---
These lovely photos were shared to our Beaver Bushcraft Facebook page from Elizabeth Anne Woodall. They show her recent purchase of 'Drogan', one of our traditional Flint & Steel Dragon Stickers and one of our Starter Tinder Pouch Kits. Our Starter Tinder Pouch Kits are a great way of trying out samples of our Tinders that we have on offer without breaking the bank.
---
We were sent these lovely set of photos by James Ian David from "The Copper Pot Camp Site" based in Cornwall, showing off his recent purchase of one of our Andrew Kirkham hand forged traditional fire steels with tinder kit.
---
A great set of photos from Vildmark.co.uk of one of our Starter Tinder Kit Pouches. The photos show the fire lighting kit contents along with one of our hand forged R shaped traditional fire steels. They have also produced a great video of this product in use on their YouTube channel @ vildmark.co.uk.
---
Great pic taken by Bushcraft Boy Jones of one our outstanding best sellers, the Polaris Fire Steel pendants. We do hope to make some more of these soon.
---
This photo was taken by Clive Smith showing his Beaver Bushcraft Copper Hudson Bay Tinderbox, tinders and one of our handmade leather Pioneering Pouches made in natural russet. Over time this kit will take on a great patina and have its own charactor.
---
Another great shot of one of our fire Steel pendants. This photo was taken by Carrot Cake 20 (on Instgram) showing her Fire Steel Pendant on one of our Tinder Strarter kits.
---
Great shot from Woodsmon of his Beaver Bushcraft Fire Steel Pendant and Tinder Starter kit. This kit has all the tinders in that you need to start making fires the old fashioned way. The Tinder Starter kit is one of our best selling items and it won't break the bank.
---
This brilliant photo from Renzo Dinozzi from the Cimone Outdoors Scoula Naz le di Sopravvivenza Bushcraft Shcool showing all his recnt Beaver Bushcraft purchases.
---
One of our most popular items is our copper Hudson Bay Tinderbox with Oval fire steel and matched with one of our hand stitched leather Pioneering Pouches. This great pic was taken by Martin Rolin from Silverback Bushcraft of his own Beaver Bushcraft kit.
---
A great photo from Andrew Thomas Price from Dryad Bushcraft of his copper Hudson Bay Tinderbox, amadou tinder and one of our hand stitched leather Pioneering Pouches.
---
A great photo from Mark Yates at Big Man In The Woods of his Beaver Bushcraft Copper Hudson Bay Tinderbox and one of our Fire Eating Dragon Fire Steels.
---
We were sent these awesome photos from Alex Outdoors using our Fire Storm and Solar Pendant. Thanks for the share Alex :)
---
Some great photos from ferral yam Yam Bushcraft School teaching traditional fire lighting using our Flint & Steels, ferro rods and tinder. Awesome!
---
It's great when we see pictures of our products in use. Here are some photos from Tony Handley who is a Tracker . Tony using one of our hand stitched leather magnifying pendants to identify small animal bites on cones.
A fellow Bushcraft enthusiast, Jenny, sent us some amazing photos of some of our items that she has been recently using whilst outdoors. Jenny can be found on Instgagrm as 'Jenny224' and she takes some amazing photos of her adventures in the wilderness.
---
Its so great when we see photos of our items & products in use. These photos were taken by a lovely customer of ours called Andy Turner and he has let us share them with his kind consent. In his photos you will see him using one of the German Silver tinderboxes, one of our new Ferro rod Fire Lighting Kits with a hand dyed leather Tinder Pouch with a matching 5'300 yr old Bog Oak Ferro Rod handle & Tinder. He also has one of our mini leather pocket sized tinder pouches with an Oval Hudson Bay traditional Fire Steel. You can also see him using one of the mini tins to make his own Char Cloth. Our items are designed to be used and thats why we love seeing photos of our actual items in use.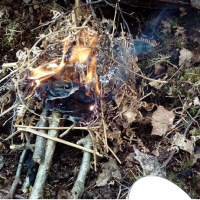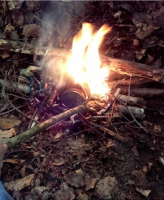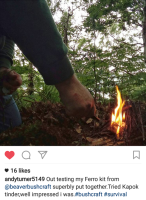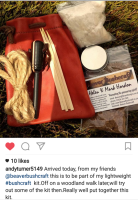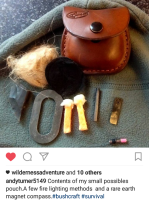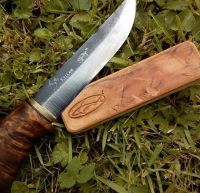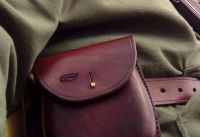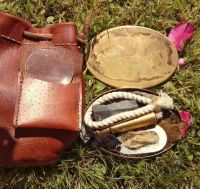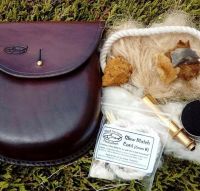 ---
Thought we'd share some brilliant pics that Phil Hawkins from Bushlife Essentials UK Tree Surgery (Wiltshire area) sent to us. Hate to think how old these hand stitched leather Sheaths are that Mark made Phil way back and its good to see our Canvas Bags have also stood the test of time over the years. Phil is a professional Tree Surgeon and to quote him 'working consistently in arduous conditions where tough reliable kit is essential'. The Sheath is for the Laplander Saw and the Knife Sheath was made to Phil's own requirements due to his job as a tree surgeon. I think we may have to bring back the Canvas Bags to the website.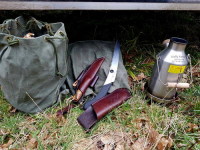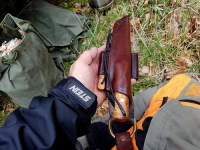 ---
These photos were sent in by Scott McAllister who's had quite a few items from us over the years.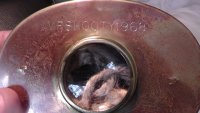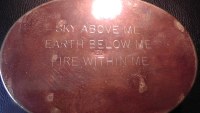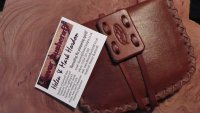 This is his copper Hudson Bay Tinderbox and one of our hand stitched, hand dyed Pioneering Pouches. Scott had the Copper Hudson Bay Tin engraved with a personal message and has patina'd down to a lovely effect.The scriptt was rather a lovely touch we thought. Scott also run's his own company and makes some rather lovely hand crafted items that he adds to make the kits his own. Scott's work can be found on Etsy @ ScottsNiceStuff
---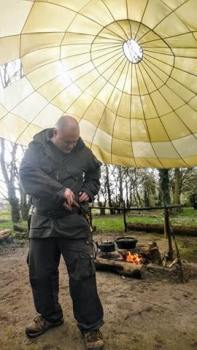 Geoff Preen from Fenland Bushcrafter is an instructor and needs his gear to work!! He has one of our Green Outdoor wax jackets that was slightly modified to meet his needs.
He's also wearing one of our mini pocket pouches on his belt. His Gransfor Bruks axes also has one of our hand stitched Axe head covers.
Our items are designed to be used and made to last, so its so great to see professional people like Geoff using our products out in the field.
To quote Geoff he needs 'kit he can trust'!
---
This is one of our all time best sellers : The Bushcraft Field Sharpening Kit' here are just a few photos and a few customer comments we have had about this particular item. Sean from 'Black Wolf Survival & Bushcraft' has had his kit for quite a few years, to quote Sean, 'it's the best sharpening system by far. Used & Abused and still going strong'.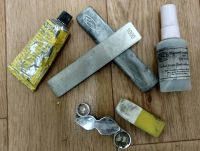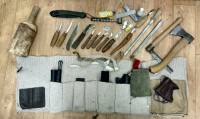 Mr J Poole' 'Just wanted to say I purchased your sharpening kit at the Bushcraft Show and its one of the best investments I've ever made. It has even sharpened my 15 year old carving knife. I thoroughly enjoyed your demonstrations aswell'
From Mr A Hughes: 'It was time to sharpen an old dull blade. And this is the real reason to write you. Thank you, thank you, thank you. I've never been able to get a real good edge on any knife, and some I've not even been able to get any edge to speak of. But, using your kit, and following the method described by you in the video, I was able to get a very sharp edge - cutting paper rather than tearing it - on a £1.00 knife. That's right a one pound knife is as sharp as any other knife I own now'.
A customer of ours called 'Sun Set' just sent us a pic of his knives he had just sharpened using the 1000 grit diamond stone and pocket strop for what he called 'a quick touch up for my knives'!!!