Making a leather sheath with Ross
Posted on
Making a Leather Sheath with Ross......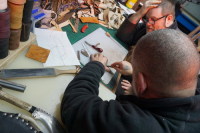 We really should start thinking about doing a new timetable for our Leather and Sharpening Courses. We usually run the Courses in-between Shows and the Events we attend. It can be a bit full on trying to squeeze everything in, but somehow we manage it! Yesterday we had Ross come over for a day's Leather Course. Ross brought over a couple of his own hand forged knives he had made and wanted to make a couple of sheathes for them. We love the results he produced and hope Ross enjoyed his day with us too.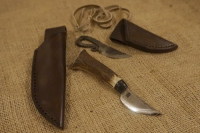 I'm a bit frustrated at the mo….still waiting for a new batch of Skins to arrive. Normally we go to the tannery ourselves to pick our Skins but as time is so tight we ordered some online….still waiting!!!! Hopefully they will turn up today so I can get some new soft pouches finished. Also we have the Bushcraft Show coming up in May and we really need to get our heads round making more stock, oh boy! No rest for the wicked eh?....