"Our aim is to capture that old pioneering spirit with our beautiful hand crafted bespoke leather items & old school Tinderboxes, natural Tinders & large range of traditional Flint & Steel fire strikers. Hand crafted in the UK. Items for the great outdoors, forest schools, bushcraft, historical reenactment, TV & Film Props".
Come & join Beaver Bushcraft @ this year's 'Bushcraft Show' at Standford Hall, Lutterworth. on the 29th - 31st July 2022. The Bushcraft Show is an exceptional world of adventure & discovery. Learn & practice outdoor skills in a variety of disciplines. Family & Dog friendly event. Fires allowed. 3 days full of bushcraft and survival skills, activities, demonstrations and talks.
Want to win 2 x Adult Weeknd Passes to this year's Bushcraft Show? One very lucky individual could win two passes that are worth £234. Pop over to our Facebook Page to learn more & be in with a chance to win this prize for the best Bushcraft Show held in the UK.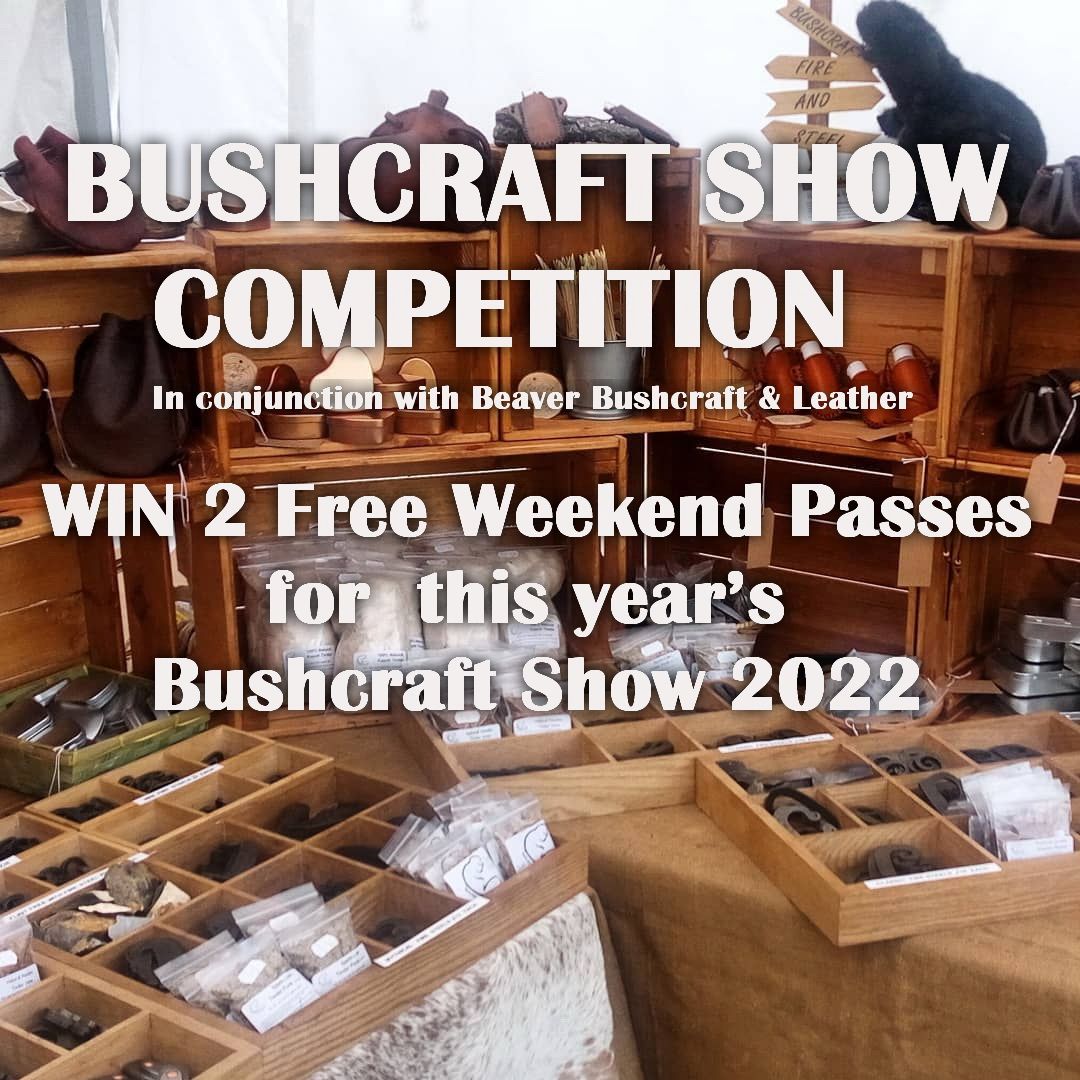 Just added some new limited edition Tinderboxes. We love creating something different and unique & we have even managed to procure one of the origanal Hudson Bay Tinderboxes. Find them in our Vintage/Limited Edition section on the website.
"Hi Mark and Helen, my box of goodies came today, & I can't tell you how much I appreciate all the lovely extras you added! It was more fun than Christmas morning! The heart-shaped tinderbox, & that gorgeous leather pouch are just beautiful--I will treasure them. 😊) I already threw a few sparks with that beautiful little Shongdong striker, right in my kitchen, just because I couldn't wait. As tiny as it is, it is still mighty! I'm so glad to have found you. I'll be back! All the best, "
Andrea 14/03/22.
"Hello Beaver Bushcraft Elves,
I just received my lovely wee tinder box pendant today - it's just lovely! and will go down a treat with my chum who's moving to Sweden for when he's out in the wilds exploring there.
Thank you also for the extra flints and tinder - so generous of you! :)
As always your wonderful bushcraft products are a delight and so beautifully made.
Warmest regards"
Jacquie 16/05/2022
"You guys have taught so many the art of fire lighting with flint and steel it's unbelievable how many. Your steels, your tinders, your leather goods are 110% top quality. Your service, your packaging, your desire to help people is commendable. Seriously, I just can't praise and recommend @beaverbushcraft enough. Keep going guys!"
365survivelist 05/06/22
on Instagram
"You might (?) have noticed that this order is a repeat order. You sent me one just before our very wet and windy Xmas Season. What a performer! I find it will produce a strong stream of sparks from any flint beach cobble (cracked open) & with a pinch of your Amadou Down will get a nice ember even on a miserable windy day. Yours sincerely
John Ruston 03/02/22