About
Little bit about us:

Makers of fine Bespoke fine Leather work and suppliers of traditional Tinderboxes, Fire Steels, Natural Tinders and Sharpening equipment. Our passion is in our work and has a slight old school, retro feel about it. We believe in quality items that should, we hope, last a life time. Our handmade leather goods are made using traditional methods and are finished by hand to a very high quality.
Suppliers to the Bushcraft World, the Out-Doors market, Forest Schools, Re-enactors and props for Film Set and TV companies.
For the last 6 years we have been making Leather Props and supplying Traditional Tinderboxes & Traditional Fire Lighting equipment to the Film and TV industry and Museums. TV work includes the original of series of '10'000 BC', 'National Geographic', the 'History Channel', 'Sky's 'Big Brother' and Poldark. Some of the Films we've been involved in include: Tom Cruise's ' Edge of Tomorrow, 'Jupiter Ascending', 'Cinderella', 'The Huntsman' and more recently 'The Little Match Girl'. Also took part in the Scott Mills Show on Radio One about funny buisness names.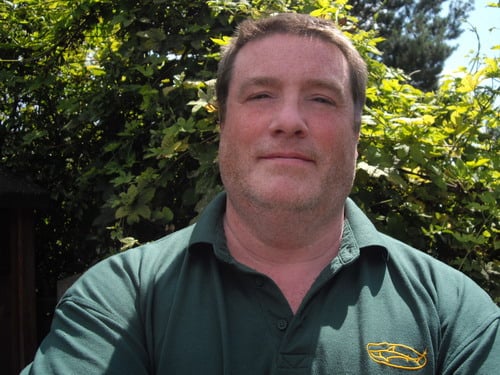 Mark Hordon :
Although Mark's passion for Bushcraft goes way back to his teenage years, he didn't start Shark Designs until 2003. Mark's back ground was in Model Making and the Martial Arts. He decided to take a different direction one day and approached a prestigious 'Leather' company in London as an Apprentice, even though he was a bit old to be considered as an Apprentice,non the less his passion for Leather was born!
Mark has often been asked why he called his company 'Shark Designs'. Sharks have been for millions of years & have survived as a species. He loves the elegant & fluid lines of the Shark. The Logo for Shark Designs was actually born long before the Company was. His passion is still very much for producing high quality, hand made bespoke leather items and he states that his hand stitched items will test the length of time, rather like the Shark!
Helen Sumner :

Helen's back ground was based in the Theatre. She studied at Chelsea School of Art and then went on to study at the Bristol Old Vic Theatre School. After leaving college she had a spell of working in the Theatre and then went on to run her own stall in London's famous Petty Coat Lane. She then met Mark, gave up her love of the Theatre and her little stall and concentrated on a career in Retail. Helen feels her life has come full circle as setting up for the Shows & Events they attend is rather like being back in the Theatre. Helen's back ground has come in handy when it comes to researching topics such as Traditional Fire Steels and leather work/design.
Helen joined Mark full time in 2010 and 2014 saw the birth of Beaver Bushcraft, the sister company of Shark Designs. Beaver Bushcraft is still growing and it brings about both Mark's and Helen's love of the Hudson Bay Trading Company and their passion for recapturing the pioneering sprit of a bygone era!!