Our Setup
About our 'setup' for demonstrations for Shows and Events.

We at the Beaver Bushcraft Trading Post specialise in demonstrating the illusive Art of free hand Tool Sharpening using Japanese Whetstones, Traditional Leather Strops, Bricks ,Diamond and Ceramic Sharpening Stones. We also teach and demonstrate traditional methods of making fire from the Stone Age man to the more modern methods as seen by the likes of Bear Grylls. We even talk about the history of Amadou

and the Tinderboxes plus allow the members of the public to participate in some of these methods. We feel that these demonstrations add to the enjoyment and experience of the visiting public since many of our demonstrations draw large numbers and we become part of the interactive experience. We demonstrate at various Bushcraft events in the UK such of the Bushcraft Show in Derbyshire, Medieval Fairs, The Sussex Wood Fair, The Bentley Wood Fair and for the Scouts Federation.

We have 3 types of Marquees : one is a traditional white heavy duty cotton canvas marquee supported by wooden poles, where our customers are welcome to come inside and peruse our wares plus we also have a white cotton canvas side ridge fly where we hold our demonstrations. One a large round traditional style cream canvas Yurt which is 12 metres by 12 metres.This is a perfect set up for holding lots of different types of demonsrations and tuition area. It gives us a very flexable working area as well as being pleasing to the eye. We also have a simple modern 3m x 3m pop up Marquee that is suitable for smaller venues or for trading at a more comercial Event.
Many of the Course Organisers who have commented on our stall set up and have stated that they feel our Marquee accentuated and complimented the overall appearance of their Show. The smaller marquee is 4m x 4m which is our main selling space and our demonstration area is again 4m wide and 4 m in depth, but we add another 2m for guy ropes, which making a total of 10m frontage by 6m deep. As this area is under canvas we find its great to hold classes or demonstration when its raining or as shelter from the sun. We are fully Insured and adhere to all Health and Safelty guidlines. Our larger Marquee is 12m x 12m plus 2m each side for the guy ropes.




Top left picture shows Mark doing some free hand sharpening. Top right picture shows the crowd standing around Mark whilst he's doing his demos.Bottom left shows a close up of free hand sharpening. Bottom right, yep showing a caveman how to sharpen a Flint tool.
If anyone is interested in us taking part in their Show/Event, please contact us at: Email:[email protected]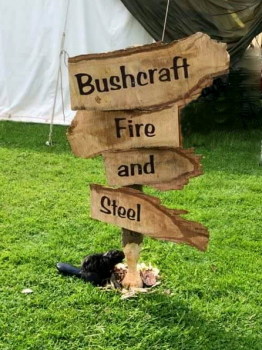 Tele:01634 241 049
Office Hours: Mon-Fri 9.00-5.30
Website:www.beaverbushcraft.co.uk
Facebook:Beaver Bushcraft
Instagram:BeaverBushcraft
Twitter:BeaversBits
Part of The Shark Designs Leather Compnay
'The Beaver Bushcraft Trading Post'