In the workshop...all in a day's work
Posted on
A liitle look into our workshop....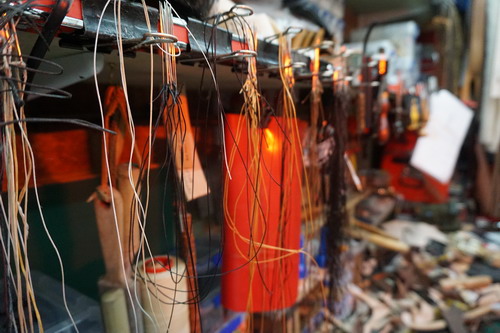 We run a small but extremely busy work shop based in Kent. This Blog shows you some of the tools that we use on a day to day basis to make the leather items that you see featured on our website or at various Shows/Events that we attend. We still like to make our leather goods by using the 'old' traditional methods from hand cutting out some of the pouches, to hand dying our Belts and of course using traditional saddle stitching when sewing our leather goods.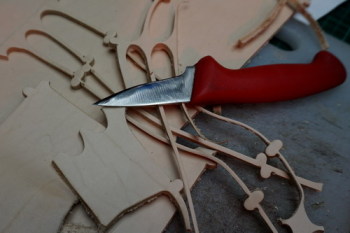 There are times when we use machines such as when we make the soft pouches or canvas products but we can honestly say that we finish each and every item by hand and we also give care and attention to detail. Why do we do this ? Well we like to make items that will last and not fall to bits within a week. We are passionate about what we do and we like to feel our work reflects this. So what makes our products different? Some companies will make all of their leather items out of pre dyed skins and hides, we like to hand dye some of our leather pieces, especially the Saddle Tan and Light Brown items, and to hand-finish every item with our own specially formulated leather balm. We feel that this gives the leather items some depth of colour plus a bit of individuality and not a mass produced look. We believe that it gives a bit of character to our leather goods that our customers can see and feel it its quality!
The Mechanics…..
We use Weaver Machines where we can. 'Weaver' are a liitle bit like us, they still make their machines the old fashioned way and are built to last. They are exspensive and are a lifelong investment but are worth every penny. Believe it or not some of them are hand cranked and don't have a plug in sight! They are works of art in themselves.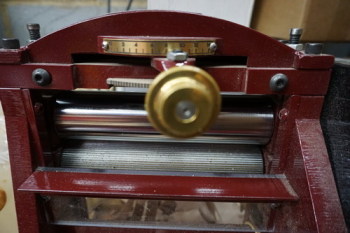 The Splitter, the Strap Cutter and the Foot Press, all operarted by hand or by foot!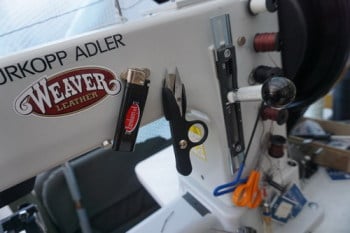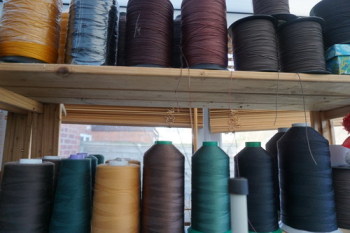 The 'Adler' Sewing Machine and some of the Threads we use.
For canvas work and for our soft leather pouches we use the 'Adler', it can sew through several layers of heavy duty canvas like butter. What some pople don't know is that we also make leather items for other companies and we also make items for TV and Films. We tend to use the' Adler' for this sort of work, but be assured that when an item says it is 'Hand Stitched' it does not even get a glimpse of a sewing machine ... unless you view Mark (AKA the 'Workshop Elf') as a Sewing Machine that is!!!
Why do we still hand dye?......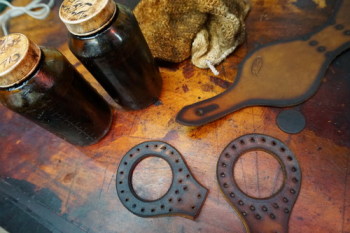 Hand dying is something that we like doing the most. It's our chance to exhibit a bit more creativity, especailly if we are working on something personal or a limited edition peice. We do mix our own dyes, we like to think that this way we can offer something different and more personal.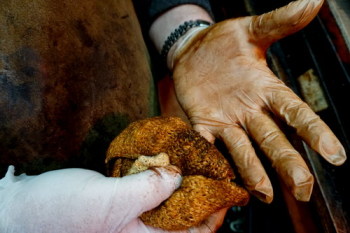 We like the fact that the character of the leather can still show through the colour, and the leather has a depth to it that you don't find on a more commercial item of leather; sometimes a more commercial leather item will have a 'flat' apperance, in fact you can't even tell on some occasions if it is even leather! Most of our leathers items are hand dyed, the exception has to be if we are making a production run, but even then we will still polish and buff, by hand, each and every item. Obviously our Seude pouches are not hand dyed, but saying that there are times when we will take a 'skin' and give it an aged, vintage apperance...thats the bit where the fun starts......
#Made in the UK......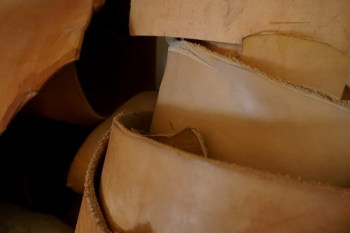 We are proud that our leather goods are hand made in Kent by us in our small workshop. We use very high quality leather that has also been sourced in the UK. We are also proud that we still make our leather goods by hand and by contining to use traditional methods as standard. We feel that our passion for our work comes through in the products we make....#madeintheuk ...by us!!!!