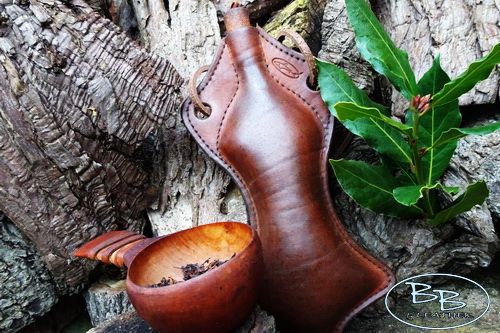 Hand Crafted 'Dragon's Egg' Leather Bottle/Flask

Hand Crafted Leather Bottle

£69.00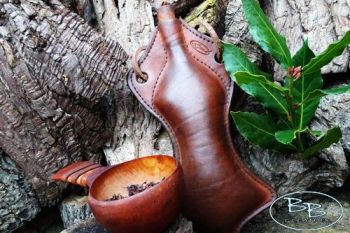 Hand Crafted Leather Drinking Bottle - 'Dragon Egg'
FREE UK Delivery

Beautifully Hand Crafted in the UK

Handmade Leather Bottle
Made Using Traditional Techniques and Methods
Each Bottle Is Completely Unique
Made Using High Quality Vegetable Tanned Leather
Shade: See Drop Down Menu
Rustic Patina
Lined With Brewers Pitch
Adjustable Thong Length
Hand Made Leather Stopper
Stopper Secured with Leather Thronging
Holds (approx.): 400ml +/-
Measures (approx.): 270mm x150mm
Ideal for Re-enactors, Bushcraft, Survival, Cosplay,Larp,Film Props
Handmade In the UK by Shark Designs Leather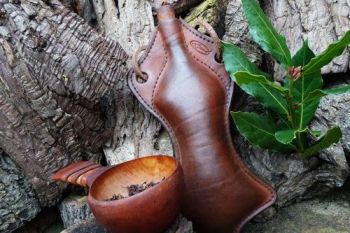 This style of Bottle has been inspired from our love of Dragons and with a slight nod to a very famous TV series based on Dragons. Each Leather Bottle is hand cut from the very best quality vegetable tanned leather, then stitched and individually wet moulded before it is carefully lined and sealed with Traditional Brewers Pitch ready for use. Please allow as few days from when you place your Order as each Bottle has to be carfeully checked before despatch. To read more about the History of Leather Bottles are how we make them at beaver Bushcraft, please click here to read our Blog.
Individual Shape & Character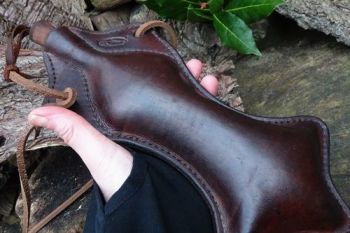 Our handmade Leather Bottles have been made using traditional techniques and methods that have been used for thousands of years - a concept that has stood the test of time. Since each bottle is made as an exclusive item, each bottle will have taken its own individual journey during the making that defined its uniqueness with regard to shape, colour and feel. Each Leather Bottle will be quite distinct from any other, a one-off item. The leather thonging can be adjusted so you can carrying the Bottle accross your back, over your shoulder, high or low.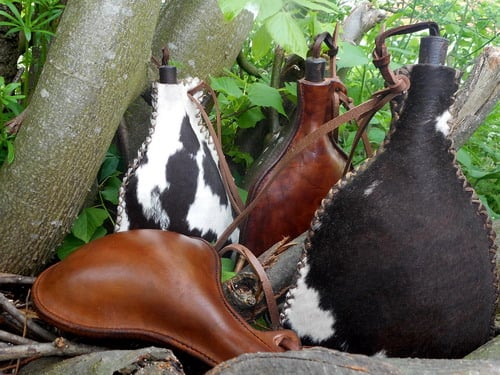 We could have easily made our Leather Bottles so that they all looked and felt exactly the same, by simply moulding them around a standard bottle shaped Wooden Block Former before assembly. However, that manufacturing technique would have created a style of bottle that would have lacked the individual character and originality that we were looking for – perhaps this will be a future project, if demand for this item requires it! Certainly wet moulding leather around a wooden former, before assembly, requires a lot less effort than wet moulding them after assembly as in the method that we employed.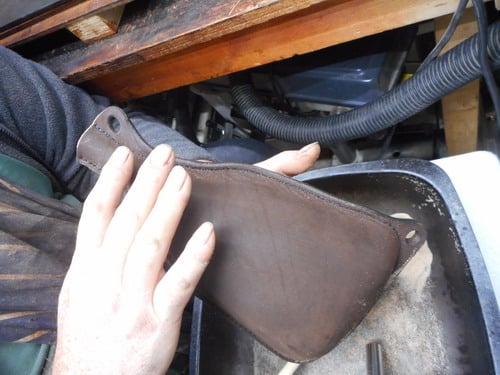 Since we decided to approach the production of them from a more organic direction, creating them as individual and uniquely shaped items, it required that we mould them with dry sand. Sand moulding the bottles allows us to listen and feel the leather during the stretching process and thus do what the leather requires rather than forcing a required shape upon it. Because leather is an organic natural material it has its own distinct character, the shape it takes on is, you might say, built into the qualities of the leather and are teased into existence by us. During the waxing process the leather's unique qualities, imperfections and markings, allow it to take on its own extraordinary colours, incorporating subtle shades and hews that define the qualities of the finished product making it quite unique.
Leaking and Damage Repairs
All of our Leather Bottles have been made to the very highest of standards and are check for leaks before they are sent to our customers, however, over time the bottle may be knocked or damaged in some way, which may result in it springing a leak. If leaking does occur it will usually occur at the stitched seams which can be easily fixed or plugged by pressing a small amount of softened Beeswax into the affected area with a smooth pointed stick and then rubbing it down smooth with a cloth.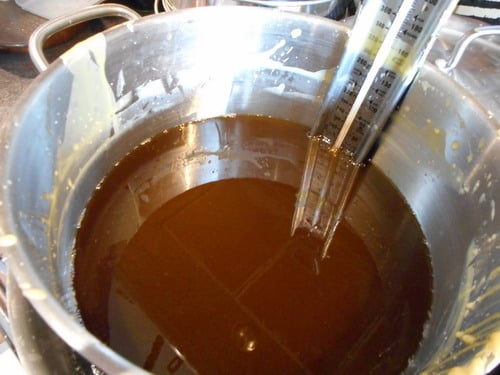 Or you can melt Beeswax in a suitable container over a Bain Marie (water bath) – never heat beeswax over a naked flame as this can overheat the wax which can then spontaneously combust - and apply the melted beeswax to the damaged area. If the bottle's shape has been compromised by crushing it can usually be blown back into shape before the beeswax is applied. Heating the bottle in an oven set to about 70 degrees Centigrade (158 degrees Fahrenheit) will allow the beeswax to melt and become hot enough to re-level within the fibres of the leathers, but will not be too hot to cook the leather and damage its structure. Allow the bottle to cool before handling it. Remove any excess bees' wax that was not absorbed into the leather by gently scraping it off with a spoon. The surface can be further refined by applying pure Gum Turpentine to a cloth and rubbing off the wax, when dry, polish the surface with a dry cloth.
We offer this service should you require your water bottle to be professionally relined. Please Contact Us for more information should you require this service.
Do & Don't of Leather Bottles
The Do's:
Do sterilise the bottle after each use with a mild sterilising solution suitable for food containers such as Milton fluid. Thoroughly rinse after sterilising.
Do rinse the bottle before each filling.
Do allow the bottle to drain upside down after rinsing to allow the bottles interior to thoroughly dry out after use.
Do give the bottle an occasional polish with some standard shoe polish to help prevent aging and cracking – outside of bottle only and only on non-hairy bottles!!!
The Do Not's:
WARNING: NEVER fill the Leather Bottles with

hot

liquids, or food stuffs and/or leave by anything hot such as fires, radiators or in a car on a hot sunny days etcetera, as this can melt the wax causing the bottle shape to become distorted, as well as cook the leather causing irreparable damage and shrinkage and may also cause the bottle to leak.
Do not fill the bottle with strong alcoholic spirit based beverages, such as Whisky, Vodka and Gin etc., these products will cause damage to the Brewers Pitch Lining. Weaker alcoholic beverages such as beers, ciders and wines MAY damage the Brewers Pitch Lining over time.
Do not fill the bottle with oils such as Olive oil as this can soften the beeswax and compromise the integrity of the bottle.
Do not drop the bottle as this can cause the Brewers Pitch to crack and could also dent the bottle at the point of impact. The damaged area may then be prone to leaking.
Do not use detergents or any other cleaning agents inside this bottle.
Do not wash this bottle in a Dishwasher.
Do not store water in leather water bottles for extended periods of time; this could cause bacteria and moulds to grow inside the bottle.
Do not store the empty bottle with the bung in place as this could cause bacteria or mould to grow inside the bottle.
Do not store the bottle in confined or airtight containers as this could cause bacteria or mould to grow on the bottle.
PLEASE NOTE:
Although these Leather Bottles are a fully functional items and are made to the very highest standards using natural materials such as Brewers Pitch and natural veg tanned leather, and they have been made using tried and tested techniques based on historical methods and designs. We have to state, that under European guideline these bottles are not suitable for use as a drinking bottle and should be considered a decorative item only, we will leave it to our customers to decide what they use our Bottles for!