And another lovely customer testimonial....
Posted on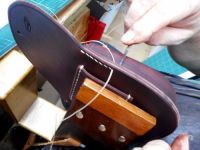 It's always so lovely when we get such a lovely testimonial from our customers (see below). We try to put as much love and passion as we can into our work, it has to have a heart and soul. Mark spends many hours tweaking the designs just to get them right and it's the same with his hand stitching, the stitch has to look as good from the back as it does from the front. Leather to us has to look like leather and to see all the amazing patina and texture it has. We 'read' the Leather and then think what we would like to make from it. It's the same for our Fire Steel designs, we want them to work, we want people to enjoy using them and to have fun with them but still retain a high quality that can be passed on through the generations, just like in times gone by. So when we receive a lovely email from a customer called Mally like we did this morning, we know that we are getting there ......
Hi there Helen and Mark,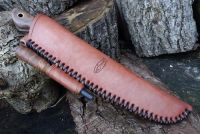 First of all, can I say thank you for the extra little bits you have sent me with the knife. They are greatly appreciated! The knife: I have to say, wow! Just wow! I am over the moon to say the least. The knife, sheath and fero rod are just pure quality. And it hasn't been an easy ride getting to this point of satisfaction Helen and Mark. For many years I have bought and been dissatisfied with bushcraft knives, always selling them on. Unlike many, I don't have a knife fetish ( mines fire lol ). I just wanted a good all round, working tool, a bushcraft knife, something that was comfortable in the hand and would do the job..
The only knives I were happy with were the Moras, which have limitations, but we're a comfortable, usable bushcraft knife, and my Fallkniven F1, which is great, but it's a survival knife, doesn't have a scandi grind, and I feel, just a tad too short on the blade..
Anyway, I stopped buying in pursuit of that elusive knife, but kept looking and scrutinizing and rejecting.
Then your last lot of Shark knives came up, and again I scrutinized, looking at everything, especially with regards to handle shape and size. I scaled it up with the measurements provided, and I knew as near as I could, this was the knife, but they'd sold out. I waited, money aside, in the hope they'd be back. They were. I scrutinized again in case of any differences, but very quickly! And I ordered! I'm not disappointed at all. This is my lifetime bushcraft knife and it's going to get well used.
All the other gear.
Helen and Mark, I have been involved in bushcraft and survival for around 40 years, although it was all just survival in the early days. I've gone through the gear stages as we do, and now it's about less gear, but quality gear that I know is going to last me many years and even a lifetime in some cases. And that's why I'm glad I stumbled on your little cottage industry because I love the goods you produce..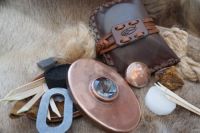 The solar lens is amazing and I can't wait until summer to mess around with it. The belt is pure quality and is worn often. The Hudson Bay tin and leather tinder pouch are used all the time and the antler handle fero rod is awesome, the best I've ever owned.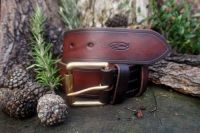 While all these things are quality working items Helen, at nearly 60 years of age, it's a time of becoming aware of my own mortality too, and it is also with this in mind that your items make such good sense to me to buy. My family know about my love of the outdoors and when I'm finally gone, these little bits which I'll have put to good use and yet lovingly taken care of and cherished, will mean the world to my own grown up children and my grandchildren.
Thank you so much, both of you. I think at this stage, I'm just about all bought up, nothing else I need, so it might be awhile before you hear from me again. Kind regards.
Mally 12/01/2019