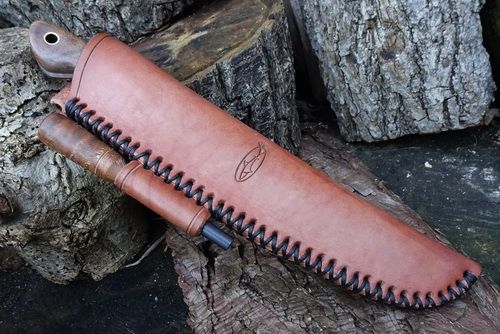 'Shark' Bushcraft & Survival Knife Set with Hand Stitched Leather Sheath, F

NEW - 'Shark' Bushcraft & Survival Knife Set with Hand Stitched Leather She

'Shark' Bushcraft & Survival Knife Set with Hand Stitched Leather Sheath, F

NEW - 'Shark' Bushcraft & Survival Knife Set with Hand Stitched Leather She

NEW - 'Shark' Bushcraft & Survival Knife Set with Hand Stitched Leather She

NEW - 'Shark' Bushcraft & Survival Knife Set with Hand Stitched Leather She
'Shark' Bushcraft & Survival Knife with Hand Stitched Leather Sheath, Ferro Rod - Dark Russet

NEW

£195.00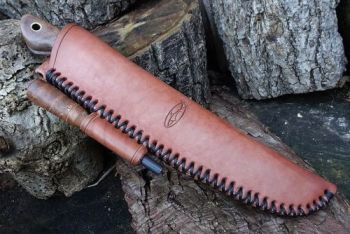 The 'Shark' Survival Knife Set with Hand Stitched Leather Sheath, Ferro Rod - Dark Russet
Please Note: Not available to anyone under 18 years of age, please do not be offended if we ask for I.D.
Full Tang Blade
Drop Point Design
Scandi Ground Blade for Accurate and Easy Sharpening
Contoured Handle for Functional Easy Hand Grip
Brass Lined Lanyard Hole
Balance Point: Forefinger
Blade length: 4.75 Inches (120mm)
Handle length: 5.5 Inches (130mm)
Handle material: Oil Finished Stabilised Wood
High Carbon Steel Blade
Made in the UK by Dorset Woodland Blades
Rare English Walnut Root Scales
Co-ordinating Ferro Rod
Complete with a Hand Stitched Sheath
Cross Stitch in Dark Brown Tiger Thread.
Colour: Dark Russet
A Serious Bushcraft and Survival Knife made to be used.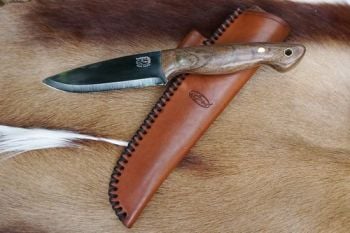 We've bought back our extremely popular 'Shark' Bushcraft & Survival Knives. The hand stitched leather sheath has been hand cross stitched using a dark waxed thread and we've kept the leather as natural as we can. A slight wash of Saddle Tan has been used to bring out the natural beauty of the leather. We like our leather to look like leather and not look like they have an artificial sheen sprayed on. We also like the natural texture of the skin to show through and overtime, the leather should darken naturally and take on a patina of its own.
As these may be the last of this style of Knives for a while, we wanted them to be special, so we have made them into a set for all your wilderness needs. Our 'Shark' Bushcraft & Survival Knives are not pretty knives but knives designed to be out in the wilds and to be used. They come complete with a co-ordinating Ferro Rod to complete this specail high spec Bushcraft knife.
'The Shark' Bushcraft & Survival Knife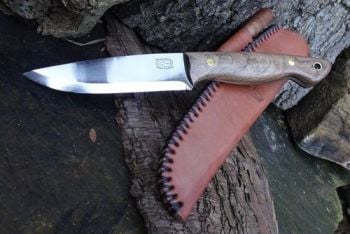 This is not so much a piece of sales patter as an Article about 'The Shark' Bushcraft Knife and what you should really expect, and sometimes avoid, when looking for a top quality knife.
The Shark is a Drop Point Sheath Knife designed to meet the needs of everyone from the enthusiastic Bushcraft & Survival recreationalist to the professional Bushcraft & Survival expert. It is a stylish, sturdy, well balanced, working, utilitarian knife that will prove to be a reliable and much loved friend … well perhaps Loved is too strong a word, but you get my drift?!
A Truly Multi-Purpose Working Tool
Whilst the Shark - Bushcraft Knife was designed to be a broad spectrum ergonomic multi-purpose, working tool, it was nonetheless designed specifically with the Professional Bushcraft and Survival Instructors in mind. It was designed for maximum efficiency in each of the many tasks a knife of this type would normally be expected to do.
About The Shark Blade
The Shark Blade is made for us by Dorset Woodland Blades from 3mm thick High Carbon Bearing Steel that has been heat treated to give optimum hardness for edge durability, yet can easily be sharpened whilst out in the field with the minimum of sharpening equipment, so the blade is tough ... and boy is it tough!!!! To see what some of our customers have said about this item click here and here to read their reveiws.
The Tang & Handle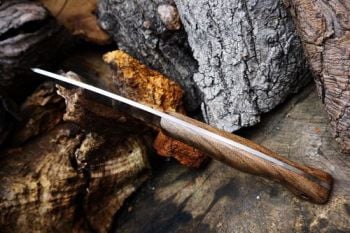 The Shark Bushcraft Knife has a Full Tang, which means that the actual Blade extends all the way through the Handle to the Butt. Almost every knife, of quality that is, that has a Full Tang has a maximum Blade to Handle strength ratio, which basically means that it is very strong.
The Full Tang has been given a well contoured stabilised wooden handle that fits comfortably in the hand, allowing you to work with the knife for extended periods of time without causing muscle fatigue or blisters.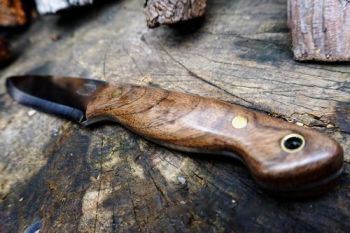 The Lanyard Hole
The Lanyard Hole allows either a short Lanyard to be added to the knife, so that it can be wrapped around the wrist when working - wrapping a short Lanyard around the wrist adds stability to the knife and eases the stresses that are inevitably place on the wrist when working for extended periods with any knife – or, if required, a longer Lanyard can be added for extra security, ensuring against knife loss, should the knife ever be sheathed incorrectly, or dropped for some reason.
The Lanyard Hole has also been lined with a Brass tube to strengthen the wooden Scales thus preventing them from chipping out over time.
The Cutting Edge & Relief Angle
The Relief Angle is where the sides of the Blade angle towards each other to form the Cutting Edge. It is very important to have a good Relief Angle on a knife that is neither too obtuse (steep), nor too shallow. There is always a compromise, a trade off as it were, between the two; in that when the Relief Angle is too obtuse you will have a very strong Cutting Edge, but this will be at the expense of the potential sharpness of the blade. By contrast a Relief Angle that is too shallow will enable you to have an incredibly sharp Cutting Edge, but this will be at the expense of the strength of the Cutting Edge.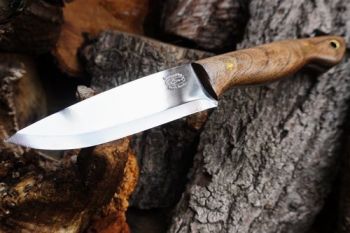 The idea that you need to have specific angles for specific jobs is not necessarily the case. What is required of any Relief Angle/Cutting Edge is that it have as shallow and angle as is possible, without the Cutting Edge chipping out on the material you are using it with. Once you see that that Cutting Edge is chipping or curling you will need to make the Relief Angle a little more obtuse so that the Cutting Edge is being adequately supported. When the correct Relief Angle is reached you will attain maximised sharpness and support for the Cutting Edge, this being for the material that is being cut.
A Secondary Cutting Edge
Most of the cheaper knives on the market today will be given a Secondary Bevel that is taken off the main Relief Angle to form the Cutting Edge, which can easily usually be seen as a very thing shiny line when the knife blade is angled to a bright light. This Secondary Bevel Cutting Edge, whilst initially very easy and quick to sharpen (done by many knife manufacturers to quickly and cheaply create a reasonably sharp cutting edge), will very quickly cause the average person many, many sharpening problems just a short trip down the road.
Effectively, this very thin Cutting Edge Angle will very quickly become so obtuse (steep) that a Razor Sharp cutting edge will be almost impossible to achieve, without spending a couple of hours on a good quality Diamond Sharpening Stone, or sending the knife to a Professional Knife Sharpener, to have the Relief Angle reground. Also, any Sharpening Platform of such a narrow width is very difficult to accurately sharpen, even for a well seasoned professional sharpener, and almost impossible for someone to sharpen who has little or no sharpening know-how. It is my all too common experience, as a professional knife sharpener, to see people really struggling to put even a rudimentary Cutting Edge on their knives because of this issue (Please see our articles on Knife Sharpening or our listings for Sharpening Kits to expand on this elusive and secretive subject).
Proper Relief Angle & Sharpness
In stark contrast to the shortcuts that some knife makers include to their Relief Angle, The Shark Bushcraft Knife Relief Angle is the Primary Cutting Edge. This basically means that a super Razor Sharp Cutting Edge can easily be achieved, and then maintained, that is second only to a Cutthroat Razor or a Samurai Sword.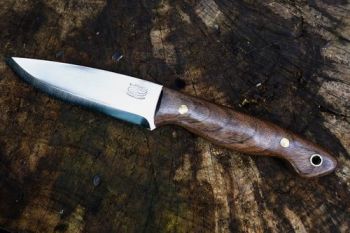 The Relief Angle used on The Shark Bushcraft Knife is initially set at approximately 8mm wide, this width allows almost anyone, skilled or unskilled, to re-sharpen The Shark with relative ease since the platform is relatively wide and therfore stable (Please see our articles on Knife Sharpening).
In a nutshell, when a knife has a wide Relief Angle and that Relief Angle is also the Primary Cutting Edge, there is a high degree of stability that can be obtained whilst sharpen. Stability, whilst sharpening, directly equates to accuracy, and accuracy directly equates to potential sharpness. It is, therefore, relatively easy to achieve a Razor Sharp Cutting Edge, with minimal practice.
'When using the flat of a wide Relief Angle as a sharpening platform, fast and very accurate freehand sharpening is possible, enabling almost anyone to bring the cutting edge back to Razor Sharpness within just a few minutes.'
Centre of Balance
Photo below shows how The Shark is normally held with the point of balance on the Forefinger.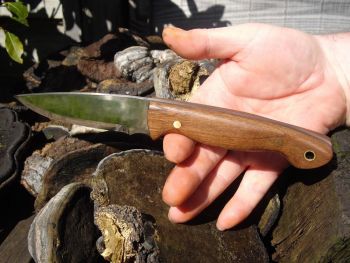 It should be pointed out that when a knife is held too tightly in the hand it is easy for the muscles of the Forearm and Shoulders to quickly become overly tired. It is a well known fact that serious accidents can easily happen when muscles become tired due to an ever decreasing ability to maintain adequate control over the knife due to excessive muscle fatigue. It is therefore essential to learn to hold a knife with a relaxed, but firm hand grip; to aid in this endeavour the Centre of Balance on The Shark Bushcraft Knife is where the Forefinger is placed when holding the Handle comfortably in the hand (as shown in the photo. This Neutral Balance Point allows the knife to be easily controlled when used for fine Whittling work as well as for heavier Chopping without causing excessive muscle fatigue with either task. This Neutral Balance Point prevents the knife from tipping forwards or backwards when a relaxed hand grip is achieved.
The Tip or Point
The Tip, or Point, of the blade is crucial for accurate and fast penetration at the beginning of a Cut into, for example, a small animal when dressing it, or when making a hole in a piece of wood for say a Fire Drill of some kind.
Ironically the Point of the blade is often the easiest and first part of knife to become damaged or broken when using it for its intended purpose. For this reason having enough metal for maximum Point support verses maximum Sharpness is a serious design consideration that is all too often ignored by many knife makers.
Often whilst designing a knife, which is, let's face it, essentially just a practical working tool, many Knife Makers will ignore the strength and durability of the Point in favour of creating a knife that has Eye Candy appeal.
This is not a good starting point if essential design considerations are being overlooked if favour of visual appeal. It is easy to design an appealing knife at the expense of utilitarian function, but difficult to design a knife that combines both form and function together.
The geometry of The Shark Bushcraft Knife Point has been designed to maximise the Strength to Penetration ratio, relieving the high tensile forces that are involved when using the Point for its intended purpose. This is all achieved whilst enabling it to be easily maintained at its peak level of sharpness due to the flatness of the Spine and angle of the Relief.
There is a saying that goes something like this:
'If you properly maintain the tip of your knife blade, the rest of the cutting edge will follow suit!'
The Spine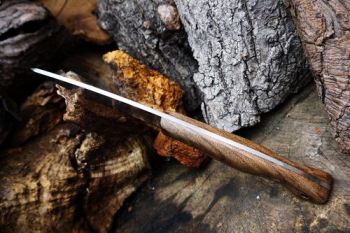 The Spine has been precision ground along its entire length, to a sharp 90° angle that will enable you to easily and safely scrape sparks from any Ferrocerium Fire Steel, as well as shave the bark from saplings, create shavings from dry heartwood for fire lighting and scrape the fats and hair from animal skins.
Making a Spear
Another design consideration was to align the Point of the cutting edge and the Butt of the handle in a straight line that runs through the axis of the whole knife. This crucial axial alignment allows the knife to be tied to the shaft of a long stick or pole thus making a superior Spear for long distance stabbing.
Since the Point and Butt are aligned through the knife's axis, all stabbing/forward thrusting forces are essentially directed down the centre line of Spear Shaft where these forces will naturally dissipate into the hands and arms of the wielder.
A knife that does not have this design consideration could cause any forward Thrusting/stabbing forces to run to the sides of the knife's handle and out into the sides of the Spear Shaft. The joint, where the knife is tied to the wooden spear shaft, will take all lateral forces, which can easily then cause the binding to fail at this point.
The Belly
The Belly of the Blade has been designed with enough curve to allow the skinning of small animals without ruining the skin of the animal as well as the high possible risk of the Point cutting or piercing into the internal organs and contaminating the meat.
The Sheath
The Shark Bushcraft Knife Sheath is exclusively made by Shark Designs to custom fit The Shark Bushcraft Knife. Like any tailored item, whether it be a pair of handmade shoes, a Savile Row suit or a custom knife sheath, it fits The Shark knife perfectly. This particular sheath has been beautifully hand stitched using a combination of a traditional saddle stitch using 1.7mm thick tiger thread and a slight wash of Saddle Tan to bring out the natural beauty of the leather.
The most important design consideration required of any Sheath is that it protects the wearer from the Knife when it is sheathed, which requires the Sheath to be designed and constructed properly.
With this in mind the design considerations and construction of this Sheath fits all of essential and desired criteria that would normally be expected, and required, of any Sheath. In a nutshell:
It is made from the very best grade 3.5mm (±) thick vegetable-tanned leather.
It has a hardened leather Welt that is made from thick shoe sole leather to stiffen the Sheath and help prevent it from bending.
The Welt also protects the Stitch line from the Razor Sharp Cutting Edge when sheathing and unsheathing the knife.
It has 3/4 Full Length Tang coverage to protect the knife's Handle from accidental damage and to allow the knife to have a snug Friction fit.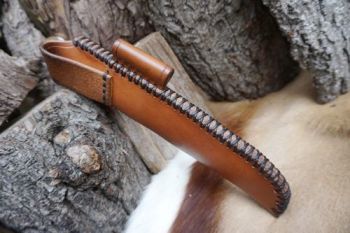 Often a cheaply made Sheath will be made from poor quality and often very thin leather. It is, obviously, cheaper for a manufacturer to make their Sheaths out of thinner poorer quality leathers, since leather of this kind is a lot cheaper to piurchase. Actually the thickness of leather often has no real bearing on its price; however the quality, tanning process and what part of the Hide the leather is made from is usually the main factor for its price.
Don't be fooled, cheap leather can, ironically enough, be actually cheaper to buy than artificial cotton backed faux leather and may well have a plastic film over it to hide surface imperfection. It may initially feel good, but will soon prove to be a lemon. A very important consideration, and the main reason why you should always use a thick piece of good quality leather for your Sheath, is that a thin leather Sheath will not have sufficient stiffness to prevent it from flexing and bending. You should really consider that a Sheath that bends, or flexes, too easily as actually being a dangerous Sheath; certainly not suitable for anything other than for a children's toy knife. If the Sheath bends or flexes too much as you are sheathing your Knife, there is a strong possibility that you will push the Blade through a wall of the Sheath and then possibly push it into your hand. With this in mind the leather that is used to make all of the Sheaths that we make, is the very best grade 3.5mm (±) thick vegetable-tanned leather that has been specially selected by us from our Tannery for stiffness and strength. We take the trouble to select each and every Hide we use ourselves, we select only the very best of each manufactured batch.
The Welt
An essential feature of any well-made sheath is that it should include a 'Welt'. The Welt lies between the two sides of the sheath, where the cutting edge of the knife usually sits. The Welt should protect the knife's cutting edge whilst in the sheath, as well as protect the sheath from the knife's cutting edge (i.e. preventing the knife from slicing into the leather or stitching). It should also provide the sheath with structural rigidity and strength. With all of these necessities in mind each of our high quality sheaths has been made with a sturdy thick, hardened, stiff leather Welt that will protect both knife and sheath from each other as the knife is either unsheathed or sheathed.
It is important to note that a Sheath without a Welt is an accident just waiting to happen. Making a sheath with no Welt reduced the manufacturing costs and thereby increases profitability, but will unavoidably guide, by virtue of the shape of the sheath, the cutting edge of that knife towards the unprotected stitch-line when the knife is being sheathed, or unsheathed. If the knife cuts into, or through, the sheath wall or stitch-line, it can cause serious damage to the sheath, but more importantly could cause the blade to seriously injure whoever is holding or wearing the sheath at the time.
Friction Fit Sheath
A good Friction-Fitting Sheath relies on the leather that makes up the Sheath to be a snug/custom fit around the Knife. If made, and then maintained properly a Sheath will sustain an easy Friction Fit that will last the entire life of the Sheath. It is essential, therefore, that a Knife is securely held in the sheath by virtue of its design and shape alone.
Belt Loop
The Belt Loop is designed to fit any belt up to 2 Inches wide. It is fully hand stitched so you can be sure that when your Sheath it is looped through your belt it will always be there close at hand and ready for use. Our Sheaths should look just as good on the reverse as on the front all made to our high quality. This knife is not a 'pretty' knife but a fully functioning working tool designed to be used.
Fire Steel Loop & Ferro Rod
Ferrocerium Fire Steel
Lanyard Hole
Spark Temperature 3,100°C (5,600°F).
Will Ignite Most All Kinds of Tinder.
Ferrocerium Measurements Approx: 70mm x 8mm Diameter
Total Length With Handle : 120mm (Approx)
Made In The UK
These ferrocerium fire steel rods are the most modern and highest quality Pyrophoric alloy fire-flints on the market. They are very easy and safe to use, and will provide you with many thousands of fires if used judiciously. They are capable of producing sparks at temperatures of around 3,100° Centigrade, or 5,600° Fahrenheit, which is hot enough to ignite just about every kind of tinder that there is. They can be used to ignite a myriad of things that include Gas, paraffin or petrol stoves, Tinder Card, cotton wool, Amadou Tinder, shredded paper, birch bark, honey suckle bark, a whole host of other types of bark and Char Cloth.
PLEASE NOTE you must be over the age of 18 yrs old to be able to purchase this item, please do not be offened if we ask for I.D.