Beaver Bushcraft Bespoke Belts Built to British standards using best Bridle Butt Blog
Posted on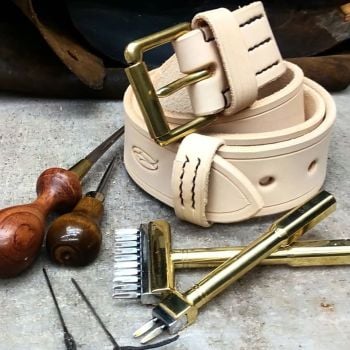 We are often asked why we have such a long waiting list for our bespoke handmade leather items, especially our Belts. We do understand our customers' frustration at having to wait so long for one of our pieces.
Each of our bespoke leather Belts are hand-crafted by us, which takes lots of time to do to a high standard. In fact it takes a whole lot more time to hand make our goods than it does for any 'Off the peg' mass produced item. We like to think that making our bespoke Belts is rather like making a tailored-made suit. Each process that is involved in the making of our Belts has its own unique time frame; from hand selecting the right leather, to cutting it, to the skiving, bevelling and slicking of the edges, to the meticulous and traditional stitching techniques we use, to the hand dyeing process, to applying the leather balms, oils and waxes, then finally to the all-important hand buffed finish we caringly give each piece we make.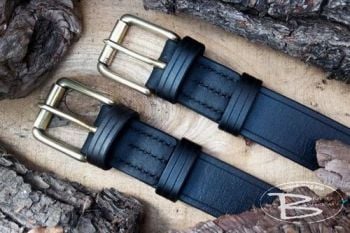 It is because we care about each and every well practiced step as well as our close attention to detail, that sets our goods above so many others in this competitive market.
It is because we care about what we do and what our customer think that we create all of our beautiful handmade artisan goods to such a high standard. A standard that has become synonymous with what you have come to expect from us ... and we have come to expect from ourselves.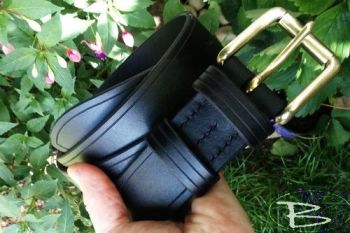 We put a lot of time, passion and skill into our bespoke leather belts hence the high demand for it, and the inevitable and unfortunate waiting list. We absolutely positively never rush any of our bespoke orders, for the simple reason that it might, just might compromise the overall quality of the items we are making.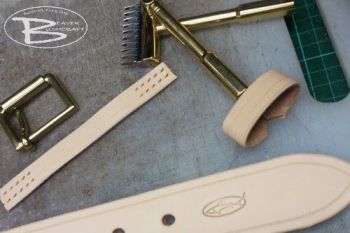 It is the close attention to detail we give to our Belts that every single stitch that is made is made to the same 'Traditional' standards that were commonly used by our forebears. It is why each and every piece of hardware, brass buckle, copper rivet and button that we use is made from the very best materials, and to the very highest standards, that can be sourced.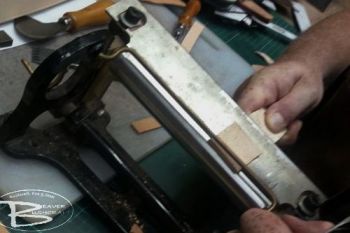 We tend to use either Bridle Butt or Shoulder when it comes to making our Belts. Bridle Butt is the best part of the Hide. It comes from the part of a cow skin that runs down its spine which has limited movement in this area which means that the fibres of the skin are the tightest and strongest they can be and this area is less susceptible to stretch marks. This produces the best quality leather. As you go down the skin towards the belly, the skin becomes much thinner and is prone to stretching such as the 'Belly' area. The 'Shoulder' is the part across the Cow's shoulder. It is slightly more supple that Butt yet it is still strong and with excellent durability. Hence why Shoulder is used so much in the making of belts.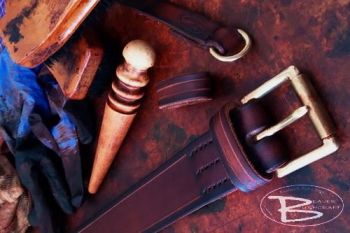 All our belts are hand dyed using Pro Dye. We personally like hand dyeing as we believe it not only gives that unique look of a hand crafted item but it also allows the leather still to look like leather. The texture of the leather will still show though and occasionally the odd blemish. The leather shade will also have depth and character unlike pre dyed or spray on dye which tends to look plastic and flat with no character. Our belts look better the older they get, rather like a fine wine. The more they are worn, the softer they become. The after care for our belts is important too. Just like our skin, they need moisturising and nourishing. The natural oils from our hands will help to keep the belts supple but occasionally a little bit of TLC will stop the leather from drying out and cracking. A simple buff and polish with some clear wax shoe polish will keep your bespoke belt in tip top condition.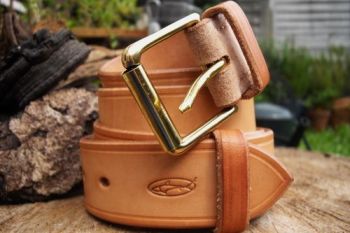 If you want to know more about our hand crafted bespoke belts, you can contact us via the website or click here to see what our customers have been saying about us and our goods.
Email:[email protected]
Facebook: Beaver Bushcraft
Instagram: Beaver Bushcraft
Tele:01634 241 049
Office Hours: Mon-Fri 9.00 -5.30