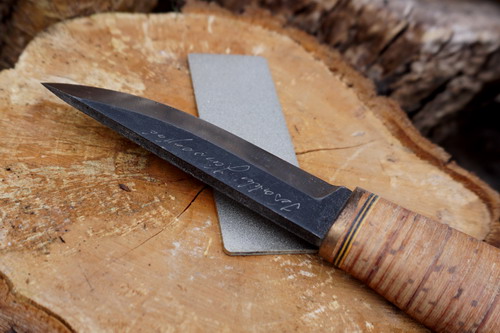 Razor Shark - Double Sided 3 x 1 Inch Mini Pocket Stone - 300/600grit (25-P

Razor Shark - Double Sided 3 x 1 Inch Mini Pocket Stone - 300/600grit (25-P

Razor Shark - Double Sided 3 x 1 Inch Mini Pocket Stone - 300/600grit (25-P
Double Sided 3 x 1 Inch Mini Pocket Stone - 300/600grit (25-P3-FC)

Available Now

£15.00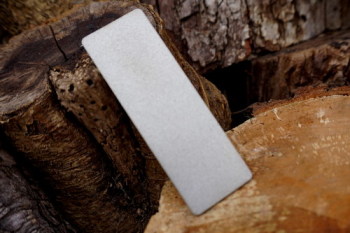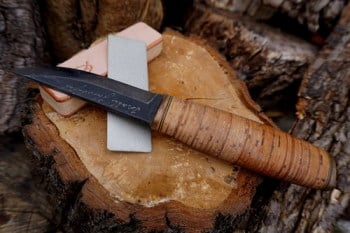 NEW - Double Sided 3 x 1 Inch Pocket Stone - 300/600grit (25-P3-FC)
FREE UK Delivery
A precision double sided 3 inch x 1 inch pocket size diamond stone.
300 (45 Microns)/600 Grit (25 Microns)
Guaranteed professionally for five years.
Diamond sharpens up to 98% quicker than conventional methods.
Monocrystalline diamonds bonded by electrostatic electrolysis process to a precision ground pre-plated nickel carbon steel base.
Double-sided continuous diamond pocket stone.
Continuous diamond surface prevents diamond and nickel lift, give more effective anti-corrosion protection as well as preventing 'snagging' on smaller tooling such as Fish Hooks etc.
Ideal for fluted, shaped & small router bits, carbide or HSS, turning tools, chisels, plane blades, carving tools & all general tooling.
Ideal for small tools such as Pen Knives Fish hooks.
Other users include Rolls Royce and British Aerospace.
The Double Sided 3 x 1 Inch Pocket Stone is one the most useful and unique Monocrystalline diamond Whetstones there is on the market today. Since it is has two Grit/Mesh sizes (one one each side of the stone)and is made from pure Monocrystalline diamonds it has the versatility to sharpen any, and all, of your tools no matter how hard or dull they become.
The Double Sided 3 x 1 Inch Pocket Stone is made from the very best quality 'Monocrystalline Diamonds' and is capable of doing a thousand and one sharpening jobs in the workshop, the home, the garden or when out camping or working in the field.
What can the Double Sided 3 x 1 Inch Mini Pocket Stone Sharpen?
The Double Sided 3 x 1 inch Pocket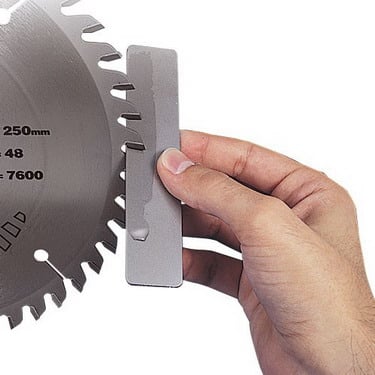 Stone can glide through the hardest metals, such as Tungsten, Hardened Steel, Stainless Steel and even Ceramic Blades. It will easily sharpen Knives, Axes, Machetes, Woodturning Gouges, Bevel Edges, Skews, Carving Tools, Scalpel Blades, Model Engineering, Routers, Chain Saws, Saw Blades, Small Chisels, Serrated Edges, Metals and Shears, and a whole lot more besides.
The Mini Pocket Stone (25-P3-FC) Includes:
1 x Double Sided 3 x 1 Inch Pocket Stone
1 x Wallet
Whetstone Specifications:
Stone size: 3" x 1"
Grade: Fine & Coarse
Mesh/Grit Size: 300/600
45 microns/25 microns
Video (4:18 Min)
James Barry - Sharpening with the Diamond Pocket Field Sharpening Kit

(25-8000)
Video (7 Min)
Freehand Sharpening with the Diamond Pocket Field Sharpening Kit
(25-8000)
Please Note: - Whilst this video demonstrates the full Diamond Pocket Field Sharpening Kit (25-8000) in use, you can still use the Double Sided 3 x 1 Inch Mini Pocket Stone - 300/600 grit (25-P5-FC) in the same way as the 5" x 1" Pocket Stone as seen in the video. Please note no other items are included in this sale other then the 3" x 1" Mini Pocket Stone.
Why Diamond?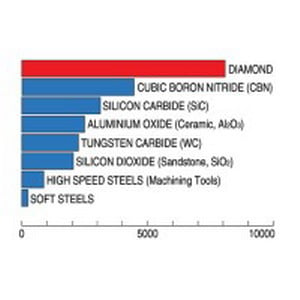 Because diamonds are not just a girl's best friend they are the Sharpeners best friend as well. Diamonds are the hardest known natural substance identified by man. Being about 20 times harder than Steel they will easily sharpen the toughest of blades.
In fact Diamond abrasives are so hard that they are used to sharpen Ceramic Blade, and if they can sharpen ceramic tools they will have no problems with Tungsten Carbide and if they have no problems with Tungsten Carbide they will positively wiz through High Speed Steel or any knife or cutting tools that you have like a hot knife through warm butter!
Diamond Grits Sizes
Extra Fine (EF) - Extra Fine Diamond whetstones are made from 1,000 grit/mesh sized diamonds that measure 15 microns in size. Just a few strokes, on a 1,000 grit whetstones will bring a slightly dulling blade back a Razor Sharp cutting edge that will pop the hairs off your arm with ease - assuming you have them that is ... sorry ladies!
Fine (F) - Fine diamond whetstones are 600 grit/mesh particle sized diamonds, which means that they are 25 microns in size. Fine diamond whetstones are ideal for putting a super sharp cutting edge on blades that are regularly maintained (i.e. they are perfect for restoring any knife or tool that has just started to become slightly dull). This restoration, more often than not, is accomplished within just one or two strokes across a Fine whetstone.
Coarse (C) - Coarse diamond whetstones are 340 grit/mesh particle sized diamonds, which means that they are 45 microns in size. Coarse diamond whetstones are general used for rapidly honing and restoring dull or damaged edges on neglected tools, blade and general cutting tools such as joinery and High Speed Steel tooling, bringing them back to a sharp cutting edge again, also for re-shaping and rapid metal removal, fast action cutting, without worry of edge refinement.
Extra Coarse (XC) - The Extra Coarse diamond whetstones use 180 grit/mesh diamond particles, which are 76 microns in size. This size of grit will remove metal at a very fast speed making it ideal for restoring broken points, removing chips from badly damaged or very dull blades and for fast knife sharpening where a burr is required in double time.
Types of Diamond - Monocrystalline vs. Polycrystalline
Razor Shark Diamond Whetstones are renowned for their remarkable sharpening speed. This sharpening speed is a function of the quality of the micronized super abrasive, Monocrystalline Diamond that they use in all of our products.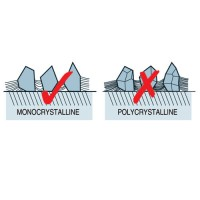 Picture (left) demonstrates the how Monocrystalline Diamond
Crystals (Picture left) look like under a microscope compared to
Polycrystalline Diamond Crystals (Picture right). It becomes obvious that the Polycrystalline diamonds will begin to fracture at the weakest points, which are shown where the surface is segmented. Whereas the Monocrystalline diamonds have no such flaws and will not therefore fracture when used.
Polycrystalline Diamonds
Polycrystalline Diamonds are weak diamonds that easily fragment when used, but are still widely used in many of the cheaper diamond whetstones because they are so very cheap to produce.
Polycrystalline diamond are made in such a way that the process causes the diamonds to have microscopic flaws and fracture lines that are very weak and will therefore fragmented when used. Polycrystalline diamond sharpening compounds rapidly break and wear away thus reducing the Grit size of the whetstone as they are used.
Many competitors use Polycrystalline diamonds; these diamonds will easily breaks apart, sometimes within minutes of use, fragmenting into a paste that is instantly washed away by any lubricant that is used. Some competitor's even claim that their stones are constructed from multiple layers of diamonds, however, this only indicates the poor quality diamonds that being used. After all using high quality Monocrystalline diamonds on surface that is designed to wear away revealing new diamonds underneath would be a waste of these quality diamonds, since they will only be washed away.
A word of Caution! Low quality Polycrystalline diamonds are used in cheaper versions of diamond stones. These Polycrystalline diamonds are inherently flawed, causing them to quickly fragment and shatter upon use, this fragmentation effectively, changes the nature of the diamond stones grit size value, reducing the overall grinding speed and efficiency. What is worse than this is that with little continued use these cheap Polycrystalline diamonds continue to shatter until they have simply disintegrated away to nothing. In the world of diamond sharpening, you really do only get what you pay for. Polycrystalline diamonds are simply not fit for the job and will be a waste of your hard earned money.
Monocrystalline Diamond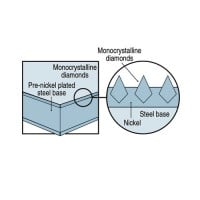 Monocrystalline Diamonds are manufactured by 'Element 6 Diamonds,' a company that is renowned for its super-abrasives and advanced diamond products. We only use Element 6 Monocrystalline Diamonds in our range of Razor Shark Whetstones simply because they are superior, stronger and have a single crystalline structure. Our pure unflawed Monocrystalline diamond will not shatter or break down with use, we guarantee it.
Since our Monocrystalline diamonds are so very strong they have an exceptionally long life span, which means that they will have paid for themselves many times over when compared to the cheaper Polycrystalline brand of whetstone that are out there. As the saying goes 'Caveat Emptor' (Let the buyer beware), because in the Diamond Sharpening field, you most certainly get what you pay for.
So, when only the very best will do, opt for Razor Shark Monocrystalline Sharpening Equipment.
Razor Shark Monocrystalline Diamonds Have The Following Properties:
Fast - Hardest material, the most efficient sharpening abrasive.
Easy - Light pressure produces an edge in seconds.
Clean - Use with Trend lapping fluid to prevent rusting or clogging. Oils are too thick.
Versatile - Sharpens all hard materials including Tungsten Carbide & high speed steel.
Durable - Stays flat & has a long life.
Why not add some
Diamond Abrasive Lapping Fluid?
(25-LF-50/100/250/500)
Available in four sizes 50ml, 100ml, 250ml and 500ml.
Suitable for use with all quality diamond abrasive products.
Use instead of water to reduce the threat of rusting by 95%.
Reduces possibility of clogging and improves diamond performance.
WD-40 or other such lubricants are too thick and result in the tool skating over the diamond surface whilst sharpening.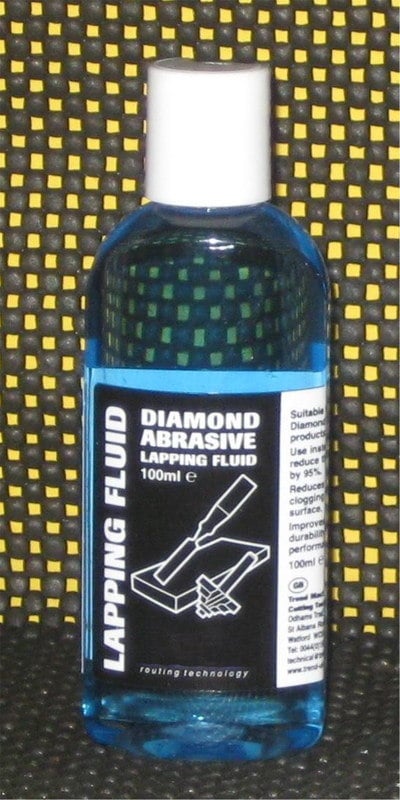 We strongly advise the use of Diamond Abrasive Lapping Fluid on all of your Diamond Whetstones. Diamond Abrasive Lapping Fluid is available in four sizes 50ml, 100ml, 250ml and 500ml and it is very economical, since only a small dribble is required to lubricate a whole Diamond whetstone.
Originally developed solely for use with diamond abrasives, this special Lapping Fluid has been used for more than 30 years in the engineering industry, by allowing much greater efficiency whilst sharpening.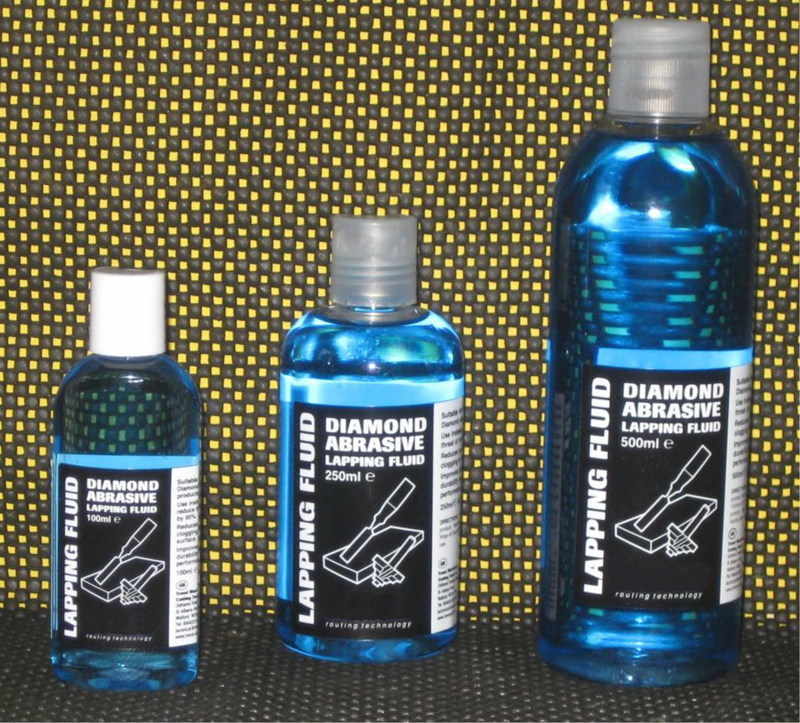 Once a small amount is applied it lubricates the surface of the Diamond Whetstone, which not only helps alleviate surface clogging with abraded metal, but also prevents the tool from slidingand skating across the surface because it is too thick and slippery. The Diamond Abrasive Lapping Fluid evaporates after use and helps prevent rusting.
PLEASE NOTE: All of the Tools that are shown in the above photos are not included in this sale.
More information about our exclusive Razor Shark Diamond Sharpening System visit our Articles & Tips